This article is more than 1 year old
Oxford University reportedly turns off its Huawei money tap
No more Chinese tech vendor grants for at least three to six months, compsci students told
Updated Oxford University is reportedly suspending all research grants and donations from Chinese tech giant Huawei, according to a Chinese newspaper.
The South China Morning Post (SCMP), which is owned by Chinese tech mega-corp Alibaba, reported on Thursday that graduate computer science students were told by email that Oxford's Committee to Review Donations "have decided to suspend Huawei as an approved gift donor/research sponsor."
"This decision will be revisited by the committee in 3-6 months and does not impact existing donations or research projects which have already been agreed and signed, and are in progress," continued the email quoted by the SCMP.
Oxford University itself promised to send us a statement, having conspicuously not denied the report when we rang them up to ask about it, but no missive had reached The Register by the time of writing.
Details on who makes up the Committee to Review Donations is hidden from the public eye; however, a review of public records revealed that a university administrator, Felicity Burchett, is its secretary, while oil company exec-turned-serial-non-exec-director Timothy Faithfull is a member. The committee's rules can be read on the Oxford University website and suggest that it deals with "cases referred to it" rather than proactively stepping in.
Two days ago, a Taiwanese research institute banned Huawei devices from being connected to its internal network due to security concerns.
Poland, meanwhile, is reportedly considering a nationwide ban on Huawei equipment after the country's internal security forces arrested a Huawei sales director, Wang Weijing, on suspicion of spying. Ever conscious of being seen to do the right thing, Huawei immediately sacked him for bringing the company into disrepute.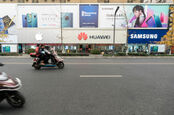 Huawei's elusive Mr Ren: We're just a 'sesame seed' in a superpower spat
READ MORE
As reported ad nauseam, the US has also repeatedly threatened to ban Huawei networking equipment, while British telco BT stripped it out of their core mobile networks, not long after MI6 chief Alex Younger told students "We need to decide the extent to which we are going to be comfortable with Chinese ownership of these technologies."
The West's fear of Huawei stems mainly from concerns that the company may be using its growing market share to secretly backdoor its equipment to assist the Chinese state with industrial and political espionage. China's cause has been helped by Germany, whose top spy has publicly asked for any solid evidence of Chinese spying to be sent his way.
Reclusive Huawei founder Ren Zhengfei recently compared the rising Western anti-Huawei sentiment to Luddites smashing weaving machines in the early stages of the Industrial Revolution, saying: "We only provide equipment to telecom operators, and that equipment doesn't have an ideology. It is controlled by telecom operators, not by Huawei." ®
Updated to add on January 18
A spokesman for Oxford Uni sent us a statement following publication of the article.
"Oxford University decided on January 8 this year that it will not pursue new funding opportunities with Huawei Technologies Co Ltd or its related group companies at present. Huawei has been notified of the decision, which the University will keep under review. The decision applies both to the funding of research contracts and of philanthropic donations.
"The decision has been taken in the light of public concerns raised in recent months surrounding UK partnerships with Huawei. We hope these matters can be resolved shortly and note Huawei's own willingness to reassure governments about its role and activities.
"The University will continue with existing research contracts where funding from Huawei has already been received or committed. We currently have two such on-going projects, with a combined funding from Huawei of £692k. Both projects were approved under the University's regulatory processes before the current levels of uncertainty arose."
Final update
A Huawei spokesperson said: "We were not informed of this decision and await the University's full explanation. As a private, employee-owned technology company, with a strong track record in R&D we believe partnership decisions should, like research, be evidence based. We have operated in the UK since 2001, employ 1,500 people here and have long standing collaborations with 20 other UK universities, working with them to research the technologies of the future."