This article is more than 1 year old
Lawyers' secure email network goes down, firm says it'll take 2 weeks to restore
75,000 lawyers subject to potential fortnight of faffery
Updated Barristers and court prosecutors have been left scratching their heads this morning after Egress Technologies' CJSM email system went down – with the firm saying it could take up to a fortnight to fully restore it.
CJSM stands for Criminal Justice Secure eMail. The network is used by Crown prosecutors, judges and other "public sector justice organisations" in England, Wales and elsewhere.
For reasons that were not immediately clear, Egress Technologies, provider of CJSM, said in an emailed update to users seen by The Register that restoring CJSM would involve wiping their mailboxes for up to two weeks.
"We estimate the restoration process to take up to 2 weeks, however we will provide an update as this progresses over the next few days," said Egress' CJSM update email to users.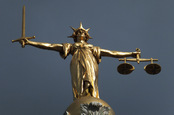 UK Ministry of Justice secure email system browns out
READ MORE
Legal sources familiar with CJSM told The Register they had been experiencing problems with the system this week before last night's ongoing outage happened. We are told that CJSM is the main way for Crown Prosecution Service workers to send legal instructions to prosecuting barristers at court.
In addition, the wiping of inboxes will hit users and the criminal court system particularly hard because critical documents are routinely sent to people who need them over CJSM.
Naturally, frustrated legal eagles started venting on Twitter about the outage, and in keeping with the news media's recent tradition of reproducing things that you yourself could find with 10 seconds' effort, here are a couple of angry tweets:
Well I have to hand it to them, CJSM is indeed up and running but not running as it should be because indeed as they said it would, my data has all gone and if the other promise is true I won't get it back for up to 2 weeks!

— Barrister at Steam (@3seawarrior47) January 18, 2019
So anyone relying on CJSM webmail may find they have no access to their mailbox for 2 weeks?!?......so only those who have downloaded the received materials and/or use an email client to for their mail will have access (of which CJSM does not support any email clients)

💩⛈️ ?!?!

— Sam Raincock (@SamRaincock) January 17, 2019
Egress Technologies had not responded, by the time of writing, to our questions about why the outage happened and what the company was doing to fix it. We will update this article if they get back to us.
A few years ago we revealed evident shortcomings in the hardware keeping CJSM up, following a number of brown-outs.
If you know more about how and why this happened, please click the author's name at the top of this article to send us a (non-CJSM) email in confidence. ®
Update
The Ministry of Justice eventually got round to saying this: "Around an eighth of users (75,000) of the Criminal Justice secure email system (CJSM) have been affected over the last 36 hours but are now able to send and receive emails again. The overwhelming majority (550,000) were unaffected. We will be restoring the email history of those affected over the next few days."