Microsoft partner portal 'exposes 'every' support request filed worldwide' today
No customer data visible but hell's bells, Redmond, what have you borked now?
---
Exclusive Alarmed Microsoft support partners can currently view support tickets submitted from all over the world, in what appears to be a very wide-ranging blunder by the Redmond-based biz.
"At the moment in the Microsoft Partner Portal you can see every ticket title for every support request worldwide!" Stuart Crane of IT biz Everon told us this morning.

Microsoft's partner portal is exposing 'every single' filed support ticket. Click to enlarge
Another Microsoft partner, Warren Lloyd of Ilkley IT Services, added: "You can't see the contents of the ticket, but you can see the case number and title... So you can't see any customer info, just the title of what's been submitted."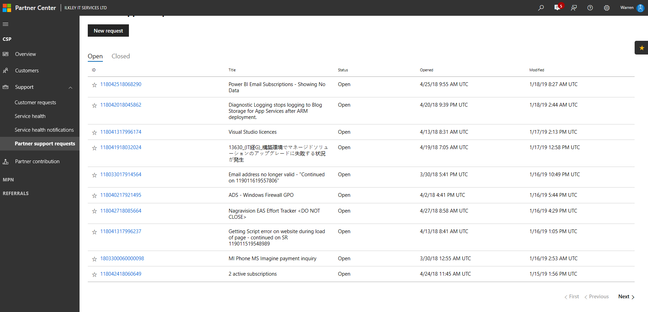 Another view of the partner portal problem. Click to enlarge
Another Microsoft small biz specialist contacted us to say "Logged on to my Microsoft Partner portal to check status of a ticket I have open with them only to see lots of tickets which are not ours".
With no customer details being visible, it is unlikely this embarrassing SNAFU will get MS in trouble with data protection laws or watchdogs. However, the cockup will leave the American multinational with more than a few red faces.
Such a thing doesn't appear to have happened before – at least, not that is recorded in El Reg's extensive archives, brimming as they are with tales of TITSUPs and SNAFUs and general wail-inducing failures.
Microsoft said it would get back to us when we asked what had happened and why this happened. We'll update this article when the company responds again. ®
Updated to add
A spokesperson for Microsoft has been in touch to say: "We've addressed an issue that impacted a small subset of functions on our Partner Centre portal and we're working to restore normal operation." In other words, it broke, and they fixed it.