This article is more than 1 year old
The Iceman cometh, his smartwatch told the cops: Hitman jailed after gizmo links him to Brit gangland slayings
Killer behind bars for life after fitness kit data tips off plod
Avid runner and hitman Mark Fellows was this week found guilty of murder after being grassed up by his Garmin watch.
Fellows, 38, was convicted of the murder of two men by Liverpool Crown Court in England. His accomplice, Steven Boyle, 36, said to have served as a spotter in one of the killings, was also convicted of murder.
Evidence presented by Crown prosecutors against Fellows included CCTV footage, phone data, and location data that indicated a lengthy reconnaissance of one of his victims.
Described by the Liverpool Echo as a fitness fanatic, sous-chef, and family man, Fellows – known by the nickname "Iceman" – was suspected of murdering Paul Massey, 55, an underworld figure from the city of Salford. Massey died in a fusillade of bullets on July 26, 2015, outside his home.
The murder last year of a Massey associate, Paul Kinsella, 54, helped investigators break the case, which is said to revolve around a gangland feud. Kinsella was killed on May 5, 2018, by a masked gunman on a bicycle wearing a high-visibility vest.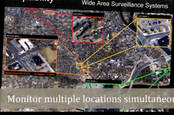 Baltimore cops: We flew high-res camera planes to film your every move
READ MORE
The vest and bicycle, with distinctive yellow markings and black tape, were easily spotted on CCTV footage. So too apparently was Fellows, which prompted detectives to search his home where they found a Garmin Forerunner watch.
The watch "provided key evidence for the Massey case," the Liverpool Echo says.
Searching through the device's GPS data trail, investigators found Fellows had been conducting reconnaissance near Massey's home on April 29, 2015. After scouring mobile cell site data, CCTV, and vehicle license plate reader data, detectives found a car that belonged to Fellows had been driving past Massey's house at least two times a day in the week prior to the killing.
Boyle, cleared of involvement in the Massey murder but convicted in the killing of Kinsella, made matters worse for Fellows by giving testimony – "grassing" in British English or "snitching" in American parlance.
The BBC and Liverpool Echo both report that Fellows made a throat-cutting gesture, and mouthed the word "grass" to his former associate in the witness box.
Fellows was sentenced to life in prison without parole on Thursday; Boyle received a sentence of 33 years to life. ®