Pope Francis of the Catholic Church has launched the "Click to Pray" app, designed to connect the faithful via smartphones and fondleslabs.
Wielding an iPad during his Angelus address, Pope Francis urged the young Catholics of the world to download the app and enjoy some damn good praying time ahead of World Youth Day.
The app, listed in Apple's app store under "Lifestyle", allows a user to post prayer intentions and view other user's pleadings in six languages.
After posting a prayer, the worshipful can then see how many other users prayed for their request.
It all sounds a bit like the somewhat corrosive habit of trolling for Likes on Facebook and Twitter. Holier than thou, and all that.
Indeed, "Click to Pray" looks suspiciously like a social media network. Devotees are required to log in using Facebook or Google accounts, or may register their own email and password combos.
Hopefully the power of the Confessional will keep their details private.
God knows what the leader of the Russian Orthodox Church would make of it all. The Patriarch is somewhat negative about smartphones.
Android and iOS users can download the app now (sorry, Windows Phone users, even baby Jesus can't save your platform) and join the choir of God-botherers asking the Almighty for stuff.
We took the app for a spin and were delighted to find all manner of requests being forwarded to the big guy in the sky, from the tediously worthy to one user requesting that the faithful: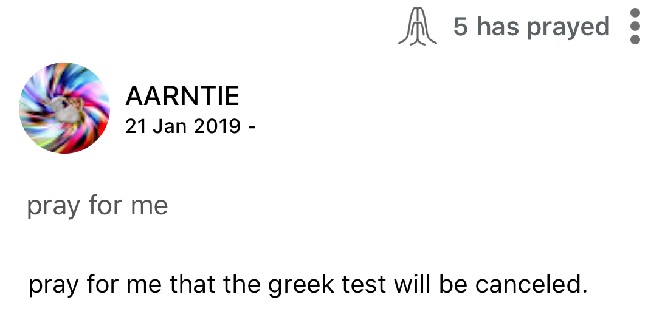 Pray for me that the Greek test will be canceled. [sic]
We're saddened to note the user AARNTIE has thus far only attracted five prayers.
The app, naturally, puts the Pope's own prayer intentions front and centre, along with virtual rosary fiddling and daily prayers for morning, noon and night. Checking a box to indicate a prayer has been done, to us, feels a little open to cheating.
But then, as any good Catholic knows, just like Google, God sees all and knows all. So its only your own chance at a place at the big table you're risking. ®