Departing NHS England digital exec Juliet Bauer has been slammed for writing a "puff piece" that praised her new employer, app biz Livi, without mentioning she would start work there in a matter of months.
Bauer was revealed to be ditching the public sector for the video GP firm on 11 January.
Just three days later, she penned an article for The Times' Red Box as chief digital officer for NHS England pushing the importance of allowing people to see their GPs via a smartphone or tablet.
In it, she name-checked Livi, commending its work on the continent and warning the UK would fall behind unless the NHS "radically speed up digital integration and encourage a fundamental shift in how care is delivered".
However, she failed to mention she was set to join the business in April – instead saying she was "taking up a new role with one of the largest and most trusted digital healthcare providers in Europe".
The article was rounded on by Public Accounts Committee chair Meg Hillier, who told the Financial Times that the piece was nothing but a "puff piece" for Bauer's new employer.
"This revolving door of senior officials going into businesses they have worked with has long been an issue but this is brazen," she is quoted as saying. "It's jaw-droppingly inappropriate."
Bauer's current employer has sought to distance itself from the piece, saying in a statement: "This article was written without NHS England's approval and we've therefore asked for it to be removed."
Although the article remained up at the time of writing, it does now say Bauer will be working for Livi from April 2019.
It is understood Bauer will not work on any areas related to her former employer during her notice period, and that NHS England doesn't hold any contracts with Livi. At least not yet.
NHS England's chief clinical information officer Simon Eccles also moved to reject any possible allegations that Bauer could have had undue influence over the tech-focused NHS Long-Term Plan to benefit Livi.
He told the FT that the digital consultation policy had been "publicly stated multiple times ahead of the publication of the long-term plan... and consequently hasn't changed as we put it into the long-term plan".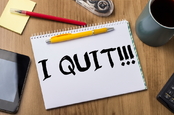 UK govt's top tech heavyweight Maxwell quits for Amazon job
READ MORE
The digital and technology strand of the plan was led by Eccles, NHS Digital boss Sarah Wilkinson, West Suffolk Hospitals Foundation Trust boss Steve Dunn and NHS England deputy chief exec Matthew Swindells.
However, Eccles also said the piece had muddled the view that the health service should be centred around the needs of the individual with an individual commercial provider, and that this "was a mistake".
More broadly, Bauer's departure for a firm that is seeking to sell products to the NHS – and in a role that Livi has said will see her responsible for partnerships with the NHS – raises questions about conflicts of interest when public servants move to the private sector.
Just last summer, eyebrows were raised when we reported that the government's chief technology adviser Liam Maxwell was heading off to join Amazon Web Services – a major, and successful, bidder for crucial government contracts.
We have contacted Livi for comment. ®
Similar topics