Looks like Uncle Sam has pulled its finger out and appointed a Privacy Shield ombudsperson
White House to nominate former DocuSign boss
---
The US may have finally complied with the European Commission's repeated requests to name a permanent Privacy Shield ombudsperson, The Register understands.
The White House, late last week, said that president Donald Trump intends to nominate former DocuSign CEO Keith Krach as under-secretary of state for economic growth, energy and the environment.
This role has consistently come with the position of public advocate for the Privacy Shield agreement on transatlantic data flows. The Register understands that officials in the bloc expect this to continue.
At the moment, the acting under-secretary, Manisha Singh, also serves as the Privacy Shield ombud.
And this was also the case in the previous administration when Catherine Novelli was under-secretary for economic growth, energy and the environment.
Assuming the appointment goes ahead, it would place the ombudsperson on a permanent footing, something the commission has repeatedly called for in its reviews of the deal, which was rushed through in 2016 after its predecessor Safe Harbor was scrapped.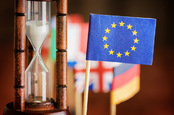 US told to appoint a damn Privacy Shield ombudsperson already or EU will take action
READ MORE
In the 2018 review, published in December, the commission gave the US until 28 February to name a permanent role-holder – or it would take "appropriate measures".
The ombudsperson mechanism was created to oversee the transfer of data between the European Union and the US, and is responsible for handling complaints or requests.
However, the position has yet to receive any requests – although a complaint has been submitted to the Croatian data protection agency and, as of December, was under review.
Nonetheless, the delays in appointing someone to the position on a permanent basis drew criticism as it was seen by some as evidence that the US was not taking the terms of the agreement seriously.
The nominee to the under-secretary position, Krach, is the chairman of e-signature biz DocuSign, having served as CEO for six years up to 2017. Prior to that, he co-founded business commerce firm Ariba, which was slurped up by German ERP giant SAP in 2012 for $4.3bn.
In 2017, he was named as one of the first members of the NYCx Technology Leadership Advisory Council, which was launched by New York mayor Bill de Blasio to use tech to improve service delivery and boost digital inclusion in the city.
As well as the under-secretary of state role, he will also be nominated for a series of US alternate governors, including of the European Bank for Reconstruction and Development, International Bank for Reconstruction and Development, and to the Inter-American Development Bank.
The US government shutdown meant El Reg was unable to get an on-record comment from officials. ®