Analysis All too aware database sales alone won't sustain it, Oracle's execs are seeking to push Big Red as a one-stop shop for cloudy apps.
Big Red, which has been struggling to gain foothold in the cloud market, is looking to make applications and integration the order of 2019 to help it win 50 per cent of the corporate apps market. Execs were seen highlighting Oracle's AI chops at every opportunity, and, as you'd expect taking aim at those, er, forking open-source vendors.
Certainly, those were the main takeaways from Oracle OpenWorld London last week, which marked the first world tour for the firm in addition to its annual San Francisco gabfest.
However, the tone of the event was set before it had even begun, with top dog Mark Hurd telling a New York event that Oracle would dominate the web-based corporate applications market.
"Today, there's no one with more than 50 per cent [share]," he said in an on-stage interview with Bloomberg. "In fact, the highest application percentage of any company in any segment is sort of mid-20s. This generation will see a leader that's much more material than that, and I volunteer us to do it."
Currently, applications make up about a third of Oracle's overall revenues, but these figures have been rising steadily in recent quarters – and thus make a good target when overall revenues remain resolutely flat.
Oracle's strategy has been to talk up "intelligent" business applications, having announced last year that it had embedded machine learning into application software products across its portfolio.
"It's changing the whole concept of a business application," systems and technology SVP Andrew Sutherland told attendees. Previously, he said, applications were "largely passive"; now they are responsive to a business's needs.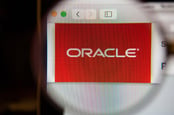 Oracle exec: Open-source vendors locking down licences proves 'they were never really open'
READ MORE
Sutherland billed a move to the cloud as a good way for businesses to stop having to worry about upgrades, saying that after they make the leap, "life becomes a lot easier".
Indeed, "the last upgrade you'll ever do" is Oracle's tagline for its ERP sales push as it tries to nab SAP customers weighing up whether to make the major infrastructure shift to the German firm's in-memory HANA database.
Similar messages of simplicity are used to sell the firm's autonomous database, which was announced with much fanfare in 2017 and became generally available last year. Cloud senior veep Steve Daheb said there were "thousands" of trials of autonomous and "half a million installed base [of] database customers".
But, beyond selling the database itself, it's clear that Oracle wants to use discussions with customers as a jumping off point to cross-sell its wares.
"Autonomous is interesting, its gravitational effect: it pulls integration," he said. "Even if what they're doing is looking at something like autonomous data warehouse, it winds up being a bigger conversation."
Integration, integration, integration
The event saw a lot of references to integration and overlap. For instance, the crossover between different applications, with Sutherland saying that "some of the divides between ERP and SCM... don't always make sense".
The senior cloud veep was keen to latch on to this message, saying that "at some point, as you do ML, you're just asking business questions" and that means bringing data in different systems together.
"Where does one application stop and another begin? I think there's a really interesting opportunity there. Oracle has all those pieces," he said.
Daheb went on to list various applications from other companies that enterprises might have to connect together, finishing by saying: "I mean, wow, I thought cloud was supposed to be easy."
"People want heterogenous systems and we understand that... but there are things we can do naturally given we have the breadth of applications," he said. "We have that stack – which is the cloud platform – that allows us to connect and extend and enrich and get those insights."
Executive veep for cloud platform Amit Zavery also raised this idea of overlap, telling The Reg that Oracle's 2019 development plans would "bring in a lot of integration between app services, and how you use it in a collected fashion".
However, for the cloud platform, Zavery said that integration extends to other technologies and systems, noting that it had been built to connect into applications like SAP or Workday, as well as other third-party stacks.
"[We have] customers who want to integrate who want analyse and extend, and they need a platform for doing that," he said. "We're starting to see a user model of adoption in a very heterogeneous fashion."
But Zavery acknowledged that there was a "big value proposition" for Oracle in this. "We compete with vendors out there who are building proprietary stacks – they might say they're building open source, but they're using a forked open source. But if you want to build something on it... it doesn't work really."
He contrasted this with what he said was Oracle's approach: "If we adopt any open-source stuff, we take standard technology, that way customers can deploy that service to build on it, either in an on-premise environment, on Oracle cloud or on a third party cloud."
The dig at open-source vendors echoes comments made by database exec Andy Mendelsohn, who said that firms like MongoDB, which is locking down their source code, would soon no longer be seen as the "good guys".
Zavery extended this argument to AWS, claiming that its streaming big data service Kinesis, an implementation of Kafka, would cause problems for customers.
"They thought, it's Kafka-ish, so it's fine... but now they're realising that they can't build on it. You can't run any of the AWS services anywhere else."
This is becoming more important to businesses now, he said, as they switch from trying out cloud to using it in real production environments and large systems. "You can't do this thinking ad hoc anymore. [Customers] are starting to think about long-term implications."
Changing customer demands
Elsewhere, Zavery said that Oracle was increasingly likely to speak to non-IT bods in organisationsm – and that the firm had "invested heavily" in simpler messaging and product design.
"It has changed a lot over the last few years, especially on the platform, PaaS, side," he said. "You used to sell to IT, to sophisticated users. They didn't mind – well I won't say didn't mind – but were used to the complexity. With cloud, and autonomous, all those things go away."
Now, he said, firms are selling to line-of-business users who want ease of use or drag-and-drop – not things Oracle is known for. Asked whether he agreed that Oracle's products were traditionally seen as complex, Zavery said "100 per cent".
"But I think we recognised very clearly that that's not the way it should be now, because our user community had changed," he said, adding that he had hired "a lot" of people in Stateside with different experiences, including UX and consumer-focused staff.
"It's become a big investment. It used to be sort of engineers designing for engineers," he said. "It's no longer that mindset. I don't let our engineers design our experiences anymore." ®
Similar topics