This article is more than 1 year old
Court orders moribund ZX Spectrum reboot firm's directors to stump up £38k legal costs bill
Looks like the final act in the grubby Vega+ saga
Just as readers thought the saga of dodgy Sinclair reboot firm Retro Computers Ltd had ended, the High Court has ruled that its current and former directors owe £38,000 in legal costs to two of its founders.
Senior Court Costs Office judge Deputy Master Friston ruled last week that Retro Computers Ltd, David Levy, Suzanne Martin and Janko Mrsic-Flogel all jointly owe a total of £38,392.80 to Paul Andrews and Chris Smith.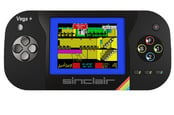 Why is the Sinclair ZX Spectrum Vega+ project so delayed?
READ MORE
The judgment will reignite the controversy over Retro Computers Ltd (RCL) and its failure to deliver crowdfunded consoles to more than 4,000 members of the public. With tens of thousands having been spent on lawyers, customers who paid RCL for a Vega+ games console via the Indiegogo crowdfunding platform will be left wondering whether their £105 was a total waste of time and money.
The years-long RCL saga has been characterised by bitter accusations and legal struggles, including a civil court dispute, allegations of criminality made by both sides and, caught in the middle of it all, a group of angry customers determined to receive their paid-for products.
It is RCL's customers who are the biggest collective losers here, regardless of which of the firm's directors has won the legal battles.
How did we end up with a costs court's judgment?
In a High Court battle, the main judgment from the trial judge is sometimes not the end of the case. Legal costs are normally paid by the loser, who has a right to dispute the winner's bill of costs. If the two sides cannot agree about the bill of costs, they go back to court (the Senior Court Costs Office, a branch of the High Court, in this case) for a judge to rule on who owes what.
This was what Levy, Martin and Mrsic-Flogel did, and is what Deputy Master Friston ruled on in his judgment of December 2018, published last week (and linked to at the bottom of this article).
Long-term readers will recall that Levy, Andrews and Smith were the founding directors of Retro Computers Ltd (RCL) along with Sir Clive Sinclair's corporate presence, Sinclair Research Ltd. The latter was not named as a defendant in this case.
RCL was formed to make modern versions of Sir Clive's iconic ZX Spectrum. After the public success of its first product, 2015's crowdfunded ZX Spectrum Vega, RCL set about making its second product on the same crowdfunded basis via Indiegogo, the Vega+ handheld console. RCL swallowed £513,000 of crowdfunded cash from nearly 5,000 members of the public to produce the device and eventually delivered just 400 decidedly substandard consoles more than two years later.
As we recounted in an investigation published in early 2017, the Vega+ was delayed by a bitter falling-out between RCL's directors that resulted in Andrews and Smith resigning in April 2016. Development of the console stopped dead at that point for what would eventually be two years. Although the two founders quit as directors, they kept their shares in the firm.
"There was a dispute about how much the directors of [RCL] should be paid and whether it should terminate its consultancy contract with [Suzanne Martin]," said Deputy Master Friston in his judgment. Martin had been brought aboard RCL as a PR consultant by Levy.
Shareholder war
Levy then, in the words of Deputy Master Friston, "claimed that [Andrews and Smith] had repudiated the Shareholders' Agreement" because he alleged that the two had set up a rival business of their own and had "an interest in preventing [RCL] from successfully trading".
Repudiating (i.e. throwing out or invalidating) the shareholders' agreement would have meant that Levy could help himself to Andrews and Smith's shares in RCL, gaining full control of the company and its finances. To achieve this, Levy claimed that £55,000 had been "misappropriated" from RCL by its sales agent, Cornerstone Media International Ltd. Cornerstone's sole director was Nick Cooper, a friend of Andrews', and Levy claimed that Andrews and Smith had creamed off sales revenues via Cornerstone instead of paying them to RCL.
Thus, Levy said, if Cornerstone didn't pay RCL the money within one month of a demand being served in October 2016, he would take Andrews and Smith's shares in RCL.
Andrews and Smith duly took RCL's directors to court ("without adequate notice," noted Deputy Master Friston) and won an injunction stopping their shares from being seized. By this time both sides were "feeling besieged" in the judge's words. Andrews, he ruled, "overreacted to what he believed to be threats made by the Defendants [RCL and its directors]", while Levy, Martin and Mrsic-Flogel won some legal costs of their own after that hearing because accusations of "harassment, defamation, intimidation and other such matters" made by Andrews and Smith "had been raised 'simply [to] cause the Defendants significant costs and distress'".
Everything but the customers
Matters deteriorated even further after Andrews and Smith won their injunction and the legal proceedings moved into their costs phase. RCL made use of a legal procedure rule that said costs can be reduced if the winner had behaved inappropriately in bringing the case or during proceedings.
Far from a straightforward dispute about whether Andrews and Smith's lawyers had overcharged for their time or billed for things they should not have done, as happens in normal costs proceedings, RCL and its directors argued that Andrews alone had:
Lied to the court
Forged a letter that appeared to come from a genuine law firm
Encouraged an online campaign of harassment and abuse against RCL's directors
Stole RCL's web domain names
Hacked RCL's directors' emails
Wrote to RCL's suppliers "attempting to prevent [RCL] from pursuing its business effectively"
Deputy Master Friston rejected all of these accusations, which were made in nine separate points put to the costs court. Some he threw out because they were "worlds away from the type of allegation that can properly be regarded" as being within the court's remit. Others he rejected because there was little or no evidence to back them up, or because what evidence there was fell short of the legal threshold of admissibility.
The judge also briefly described a tirade of online abuse directed at Levy and Martin, including mocked-up images depicting Levy in Nazi uniform, Martin as "glutenous and obese", and accusations of paedophilia. Mrsic-Flogel was also subject to abuse by whoever was behind the retrocomputers.co.uk and zxvega.co.uk websites, though Deputy Master Friston commented: "I imagine that from their perspective, they found the experience to be brutal, this being because they would all have been concerned about their reputations." He refused to find that Andrews was to blame because, as RCL's barrister admitted when asked what evidence he had linking Andrews to the two horrible websites, "there was none".
The full judgment is here as a 250KB PDF.
The aftermath? Empty pockets all round
There are few signs that RCL is still trading, or that it intends to deliver any more than the 400 or so Vega+ consoles it sent to its customers last year. Its accounts and confirmation statement are overdue at Companies House. The company appears to have no current website and its social media presences were deleted last year.
With Sky, owner of the Sinclair trademark, having cancelled RCL's licence to use the Sinclair name, it seems that the whole project is now dead for good. ®