This article is more than 1 year old
Fight, fight, fight. Gloves are off again between Nutanix and VMware
In the red corner we have Tweedledum and in the blue, Tweedledee
Yet another playground dust-up between Nutanix and VMware has erupted over a vitriolic sales campaigns, with Nutanix CEO Dheeraj Pandey calling on VMware to stop being a "bully".
It all started with Nutanix introducing its You Decide marketing push earlier this month including a You Tube video, poster site ads, and web microsite pages extolling a customer's ability to stop paying the so-called vTax and presenting information supporting such a decision.
In the video Nutanix chief marketing officer Ben Gibson landed the first punch, aimed squarely the hyperconverged "laggard".
"The IT market is full of noise these days: fact free competitive claims tweeted with reckless abandon, incumbent vendors promising agility yet in reality locking you in. And when you try to break free of operational, financial and even quality of life burdens, defensive legacy vendors who attempt to strong-arm you with fear, uncertainty and doubt."
He asked the viewer, "Do you want hardware and hypervisor lock-in or freedom of choice? True up surprises or a pay as you grow cloud ready business?"
The microsite has quotes from named staff at seven Nutanix customers including the Texas A&M University Systems, service provide Zentura A/S, TV programme maker Endemol Shine UK that purport to support its position.
Dell EMC, which owns VMware, supports both vSphere and Nutanix's own AHV hypervisor. Nutanix has positioned the traditional hypervisor tech as a commodity - and to be fair it is.
This is a direct assault on VMware's market, since most everything it sells is dependent on the vSphere hypervisor. If customers move away from vSphere, then the whole VMware business model comes crashing down.
VMware response to Nutanix attack
In retort, Sanjay Poonen, VMware's COO, became quite excited about the You Decide campaign, and sent an open letter via LinkedIn to VMware customers whose name and brand "is being used in a vitriolic anti-VMware and anti-Dell campaign by Nutanix."
Poonen said VMware has "total respect" for customers picking Nutanix over his employer's tech, and "humbly" asked if customers could stop publicly supporting the You Decide campaign:
"We don't want it to affect your brand, as (sic) also your partnership with VMware AND Dell - today or into the future."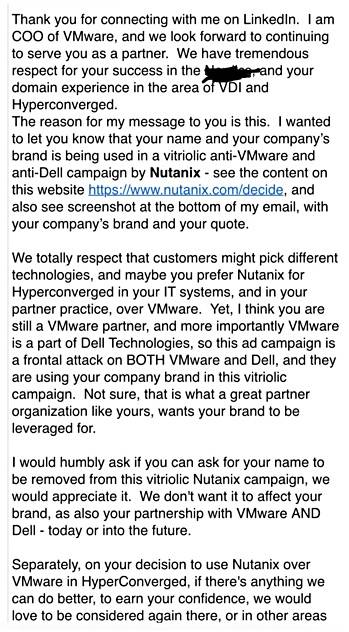 VMware COO Sanjay Poonen's letter to VMware customers quoted in Nutanix You Decide micro-site
But it didn't end there. In fact it escalated to weird dizzying heights, with Nutanix co-founder and CEO Dheeraj Pandey referencing Martin Luther King and unfair taxes prompting the American War of Independence in a 21 January blog post attack on Poonen and VMware. In it he said:
The veiled threat — "we don't want it to affect your brand" —  in this email is an act of bullying that has no place in a world where the customer is all powerful. Such bullying is what creates movements, rebellions, and eventual independence from unfair taxation.
"Stop it," urged Pandey, milking the "VMware-is-a-bully" idea for all its worth.
The Reg has asked Dell and VMware for their comments on Pandey's views in this Tweedledum and Tweedledee spat. ®