This article is more than 1 year old
Sprint subscribers: What do your updated iPhone and Tonga have in common? Both are cut off from the world
Dash it all... Fix rushed out after iOS 12.1.3 security patch collides with US telco
Sprint subscribers using recent model iPhones have been reporting cellular connectivity problems following the installation of Apple's iOS 12.1.3 security update, which was released on Tuesday.
Sprint support acknowledged the incoming complaints via Twitter. "Some Sprint customers with iPhone X, iPhone XS and iPhone XR are experiencing service issues," spokespeople for the US mobile network said. "Our teams are working to resolve the issue as quickly as possible."
Sprint characterized the issue as "a nationwide outage affecting iPhone X/XS/XR devices," and said it working to resolve the issue as quickly as possible.
The Register asked Sprint how many people were affected. In an email, a Sprint spokesperson replied, "A small percentage."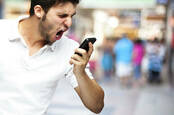 What exactly knackered millions of Brits' mobile phones? An expired Ericsson software certificate
READ MORE
Sprint's spokesperson said a fix has been released. "Some Sprint customers may have experienced service issues following a scheduled device update overnight on 1/22," the carrier's spokesperson said. "Our teams worked quickly on a resolution and we apologize for the inconvenience and thank our customers for their patience."
To hasten the delivery of the automatic update, Sprint advises affected customers to restart their devices.
The issues accompanying iOS 12.1.3 echo a similar network connectivity problem inflicted by its predecessor, iOS 12.1.2, which was released in mid-December, 2018. The buggy bug fix – intended to address eSIM activation problems with iPhone XR, iPhone XS, and iPhone XS Max – was intended to patch problems in iOS 12.1.1.
The latest problem turns out not to be a consequence of Apple code. Asked whether the issue was a consequence of Apple's patch or a Sprint misconfiguration, Sprint's spokesperson replied, "It was a Sprint update."
Maybe Apple's software quality push has had some effect.
The Register asked Apple for comment. We suspect the iGiant's so-called public relations address is an alias for /dev/null. ®
Booted-off note
An undersea communications cable broke this week, virtually cutting off the Pacific island kingdom of Tonga from the world. The tiny nation is now relying on satellite links to reach the rest of the planet. The internet is essential to the 110,00-strong country, which is about 2,000 miles (3,200km) off the Australian coast, as it is the main means of communication between Tonga's islands, and with airlines and other businesses on Earth.