This article is more than 1 year old
Bain of Toshiba's existence: Dark night for flash fabber TMC if it's a faceoff with Western Dig
And an IPO could mean just that...
Reports that Toshiba Memory Corporation plans to bring its IPO forward from 2021 to this year keep coming: it is said to be slated for the second half of this year.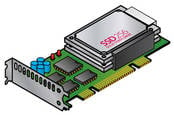 Cheap NAND nasty: Flooding market with chips threatens prices
READ MORE
Toshiba, if you'll remember, sold most of its share in its NAND foundry joint-venture with Western Digital to a Bain Capital-led consortium for $18bn in June last year. The Toshiba JV share was spun off into a separate Toshiba Memory Corporation (TMC) business before the sale to Bain, and Toshiba Corp itself owns 40 per cent of TMC.
A 2019 TMC IPO was mentioned in an October 2018 Nikkei report but that was countered by a December Reuters report, which cited TMC CEO Nobuaki Kurumatani as saying a flotation was planned for 2020/21.
But TMC needs capital for R&D and equipment purposes sooner than 2021, as 3D NAND development is no walk in the park. The industry is transitioning from 64-layer to 96-layer 3D NAND, with 128-layers on the horizon. Such transitions are costly and complex.
However we are in the midst of a NAND glut, with prices falling and oversupply being reduced. It is thought to be temporary, with demand picking up in the second half of this year. That would provide a more positive background to any IPO, and help justify flash wafers with increased capacity, through adding extra layers to each NAND die.
We have asked Toshiba and Western Digital for comment. A Western Digital spokesperson said: "We're not going to speculate or comment at this time." Toshiba chimed in: "Toshiba doesn't have any comment regarding an IPO." ®