Should the super-rich pay 70% tax rate above $10m? Here's Michael Dell's hot take for Davos
Nah, says 39th richest man in world
Michael Dell, the 39th richest man in the world, has shocked observers by speaking out against a higher marginal tax rate on people earning more than $10m.
During a panel interview at Davos, the festival for the elite rich white men of the world, Dell literally laughed off the idea of raising taxes.
Earlier this week, rising-star House rep Alexandria Ocasio-Cortez (D-NY) dared to suggest that US billionaires might want to put a bit more cash into the US government's coffers.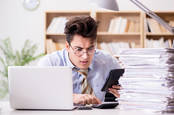 Dell Corp UK makes 1.46% net profit margin on £1.556bn in sales – 'satisfactory' apparently
READ MORE
"I do think a system that allows billionaires to exist when there are parts of Alabama where people are still getting ringworm because they don't have access to public health is wrong," she said.
She proposed a marginal 70 per cent tax on earnings above $10m – the top rate of tax in the US is currently 35 per cent.
When asked – amid peals of laughter around the room – if he supported the plan, Dell, who has a net worth of $28.6bn, replied that he didn't.
"My wife and I set up a foundation about 20 years ago, and we would have contributed quite a bit more than a 70 per cent tax rate on my annual income," he said.
Latching on to the idea that the super-rich are all philanthropists and that society should rely on their goodwill, Dell added: "I feel much more comfortable with our ability as a private foundation to allocate those funds than I do giving them to the government." *
He went on to assert that it wouldn't support the growth of the US economy, and when he was asked why not, Dell replied: "Well, name a country where that's worked. Ever."
Unfortunately for Dell, he was joined on the panel by Erik Brynjolfsson, Director of the MIT Initiative on the Digital Economy, who piped up: "The United States."
"From the 1930s to the 1970s, the tax rate averaged about 70 per cent. At times it was as high as 95 per cent – and those were actually pretty good years for growth." ®
* <Cough> Clement Attlee('s biographer) said: "Charity is a cold, grey loveless thing. If a rich man wants to help the poor, he should pay his taxes gladly, not dole out money at a whim."