Golly 4G whizz: Vodafone caught using Three UK's spectrum
Three: 'A number of customers' would've seen performance choke due to 'error'
Exclusive UK mobile network Vodafone has fingered a subcontractor after evidence showed it was broadcasting on network rival Three UK's piece of the 1,800MHz band at a cell site at London's Gatwick airport.
Its Brit competitor Three, the UK arm of Hong Kong giant CK Hutchison, has said it is investigating whether other sites were affected.
The Reg has seen footage where Voda appeared to be impinging on an extra 5MHz slice of spectrum which falls under the chunk allotted to Hutchison's Three UK in Band 3 (aka the 1800MHz range) at the South terminal of the airport. The configuration error at the Gatwick site has since been corrected.
If you're wondering what 5MHz is between friends, it's significant because more MHz means more bandwidth, meaning more customers can be supported by a cell tower, for example – or that network subscribers can get faster mobile data access.
Who's where in mobile/wireless on Band 3
| Frequency | Product name |
| --- | --- |
| 1785 - 1805MHz | Northern Ireland Award |
| 1805.1 - 1810.9MHz | PWN Telefonica UK (Downlink) |
| 1810.9 - 1816.7MHz | PWN Vodafone (Downlink) |
| 1816.7 - 1826.7MHz | PWN EE (Downlink) |
| 1816.7 - 1826.7MHz | PWN Hutchison 3G (Downlink) [Three UK] |
| 1826.7 - 1831.7MHz | PWN EE (Downlink) |
| 1826.7 - 1831.7MHz | PWN Hutchison 3G (Downlink) [Three UK] |
| 1831.7 - 1876.7MHz | PWN EE (Downlink) |
| 1876.7 - 1880MHz | Concurrent Spectrum Access |
| 1899.9 - 1,909.9MHz | Spectrum Access EE |
Table compiled using data from Ofcom's UK spectrum map
A Three UK mouthpiece told us: "Vodafone has confirmed that due to an error they were using Three's spectrum at a site in Gatwick. Unfortunately a number of our customers would have seen a drop in performance for a short period of time in this area. Other sites may have been affected and we are working with Vodafone to investigate this."
And they couldn't resist a dig, it seems, adding: "In the meantime, we will be offering them support and training on mobile mast configuration."
A Vodafone spokesperson told The Reg: "As part of routine monitoring, we noticed that a subcontractor had inadvertently configured the site to work on the 10MHz bandwidth rather than the correct one. This was corrected within a couple of hours. We have notified Three and discussed the matter with our supplier to ensure that this error is not repeated."
The spokesperson added: "It was a genuine mistake and we are looking into it as a matter of urgency."
The Reg has spoken to a networks specialist who told us they saw no reason for Vodafone to be wandering around in other people's bands. Each band used by an operator has a "guard band" associated with it, and these are supposed to be kept clear: straddling the guard band, for example, would be "very bad form indeed".
It has also been suggested that while the error was ongoing, Vodafone may have potentially been broadcasting without a licence, which – under section 35 of the Wireless Telegraphy Act 2006 – could see an offender slapped with a fine or even up to a year in prison.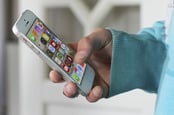 Ofcom cracks on with spectrum auction rules, despite Three's legal challenge
READ MORE
The footage, which The Reg has seen, shows a Voda downlink at 1813.8MHz taking place over 10MHz bandwidth.
As you can see from a quick look at Ofcom's UK spectrum map, Vodafone has permission to broadcast in the 1810.9-1816.7MHz range – but that's only a 5.8MHz chunk.
After EE (now owned by BT Group) merged the UK's T-Mobile with Orange in 2009, Ofcom twisted its arm to to sell off some of its 1800MHz holdings – which it duly did in 2012 – which is how Three UK came to occupy 1816.7 - 1826.7MHz.
The UK's spectrum regulator, Ofcom, told The Reg:
"We are aware of this [issue] and are in touch with both Three and Vodafone. We expect the two companies to resolve any remaining issues quickly."
If you're in the UK, have a penchant for network monitoring and you've seen something strange in your neighbourhood... email us about it till it Hz over here. ®