This article is more than 1 year old
Post-Brexit plan for .EU tweaked: No dot-EU web domains for Europeans in UK, no appeals, etc
It's not up there with looming food, medicine shortages, but it's still rather annoying
An already iffy plan to deal with .eu domain ownership when the UK crashes out of the European Union has taken a turn for the worst.
Brussels' bureaucrats have now imposed a strict two-month cancellation period for any .eu domain registered to a UK address, even if the owner is a European citizen, and refused to add an appeals process. As a result, three-quarters of a million people will have to ensure their .eu domain is linked to a physical address inside the European Union, or perhaps sue, if they don't want to lose their internet address.
Previously, it was made clear any person or organization would eventually lose their dot-EU domain post-Brexit if it was registered to a UK physical address. Now Brussels has made it crystal clear to European citizens as well as Brits: no .eu domain for you, either, if you are registered at a UK mailing address.
The updated policy was announced in an update on the .eu registry operator EURid's website late Friday, and expands a strict policy imposed by the Eurocrats that had already baffled the internet industry.
Under the new guidance, if there is a no-deal Brexit – which looks likely – the owners of any .eu domains registered in the UK, regardless of who they are owned by, will be informed they have two months to transfer their domains to a different person or entity based in Europe, or the domain will be cancelled and inoperable.
With Britain expected to bomb out of the Union on March 30, that would give as many as nearly 750,000 registrants just eight weeks to figure out how to move their domains or risk losing them on May 30. The EU then foresees putting all the unmoved domains back on the market one year later, in batches, starting May 30, 2020.
Or, in other words, once the EU has decided you are no longer a citizen, it will take your property away from you, without compensation, and then one year later sell them to others one year later, presumably at auction. Classy.
Um, so, is it legal?
Even the bureaucrats that came up with this terrible policy foresee that it may not be legal, and have included a section about challenges: "With respect to domain names that are ON HOLD, meaning for which there is a legal court case pending, these domain names will remain registered until there is an outcome of the court case. However, they will be SUSPENDED and will cease to function as of 30 May 2019," they have ruled. That follows the UK government advising .eu domain holders that they may wish to go to court over the whole sorry mess.
In the event of a deal, things are marginally better. In that case, British .eu registrants, or Europeans living in the UK, would have until the start of March 2021 to move their domain before they are taken away from them.
The tweaked policy does include a slight glimmer of hope for EU citizens in the UK: it says that they may be allowed to own a dot-EU domain following a forthcoming overhaul of the .EU registry. Based on what has emerged so far from that process, no one should hold their breath, though.
"There may be situations of EU citizens, who at present are residing in the UK and have registered a .eu domain name," the EURid website notes. "These citizens would become ineligible as a result of the UK withdrawal and would, therefore lose their eligibility for a .eu domain name, but might become eligible again when the new .eu regulatory framework comes into force later this year. At present, such individuals will experience a disruption of service from 30 May 2019, as a result of the withdrawal of the name."
That framework has, so far, adopted the same bureaucratic hard line, insisting that people prove their citizenship before being allowed to get a .eu domain. And it has added acres of red tape including a new ability to suspend domains; greater limitations on domain transfers; promises to ensure registered domain names do not fall foul of rules that "safeguard Union values"; and a nonsensical requirement that the .eu registry operator "promote the attractiveness of .eu TLD across the Union and the world to ensure its competitiveness."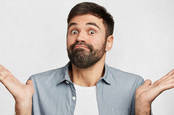 The glorious Brexit uncertainty: The only dead cert on data rules for tech biz in 2019
READ MORE
Let's be honest, when the heads of all the main supermarket chains in Blighty have warned that there will be a food shortage in the event of a no-deal Brexit, there are likely to be more pressing matters than internet addresses.
And so the firm line adopted by bureaucrats continues to get firmer: something that the domain name industry continues to view with amazement. It has long been the norm that domain names are retained unless there is a really good reason to delete them. That low-disruption approach is because DNS experts recognize a reality about the internet: it's a global network, and domain names are just entries in a database that could be stored on a computer anywhere in the world.
But globalism is seemingly not in vogue at the moment, so the EU is forcing a geographic separation on something that doesn't have or need one. It's hard to imagine how someone owning a .eu domain that lives in the UK is a threat whatsoever to the registry. But then nothing about Brexit makes any sense, so why should domain names be any different? ®
Updated to add
EURid has been in touch to clarify its numbers. Earlier, it suggested as many as 750,000 .eu registrants could be affected by the incoming rule changes. Now it says 45,584 .eu domain names are assigned to individuals that have a GB or GI country code, which won't be allowed post-Brexit. There are 187,080 .eu domain names assigned to companies with GB or GI as a country code, we're told.