This article is more than 1 year old
Ouch, Apple! Plenty of iPhones stuck in tech channel. How many? That's a 'wild card'
Plus: Chinese buyers may turn on firm, warns analyst
Never mind the car crash financials that Apple is expected to file tonight, an estimated glut of iPhones taking up warehouse space in the tech channel could point to worse things to come this year.
This is the damning analysis delivered by Wall Street analyst Bernstein ahead of Apple reporting financials for Q1 of its fiscal '19 ended December 29 2018 - results that Apple warned on 2 January will be up to $5bn short of revenue forecasts due to weaker iPhone sales.
CEO Tim Cook said weeks ago that Apple had expected "challenges in emerging markets" but was blindsided by the "magnitude of the economic deceleration, particularly in Greater China".
Nobody in China wants Apple's eye-wateringly priced iPhones, sighs CEO Tim Cook
READ MORE
Respected analyst Bernstein is trying to steer investors' expectations for Q2 of Apple's fiscal '19, based on what it expects to be a 15 per cent iPhone revenue decline in Q1.
"The big question is how much iPhone channel inventory Apple built in Q1, and how much it might draw down in Q2," said analyst Toni Sacconaghi, Jr.
"While the company will likely not disclose it, our analysis suggests that a significant inventory (4-5m+ units) and a material draw down in Q2 (2m+) - i.e, a scenario worse than last year - could still result in downward revisions for the year".
For its part, Apple admitted on 2 January that "traffic to our retail stores and channel partners declined as the quarter progressed".
Bernstein admitted channel inventory "remains a wild card" - Reg readers know that forecasting is an imperfect art.
Apple's Q1 historically "dictates" the robustness of refresh cycles - it is the peak sales quarter - and "the iPhone business typically follows a fairly predictable seasonal pattern after… meaning that forecasting primarily becomes a question of sequential declines".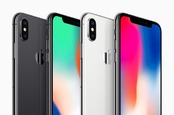 You can blame laziness as much as greed for Apple's New Year shock
READ MORE
Sacconaghi said Bernstein was forecasting iPhone revenue of $32.6bn for Q2 – in line with analyst consensus – indicating a unit decline of 34 per cent, which would already be "the steepest in Apple's history".
For those with short memories, Apple experienced challenging channel inventory dynamics last year after releasing higher margin handset, the iPhone X. Ostensibly, consumers just couldn't swallow the price of the expensive phone and either clung to their old ones or took their business elsewhere.
Bernstein blamed three factors for the slide in demand for Apple phones, the first of which isn't unique to Apple: elongated replacement cycles. The other two were related to China and "softness outside of China".
With regards to replacement cycles, he said: "In particular, we worry that higher prices, limited new functionality, and battery replacement that can extend the life of the phone are contributing to consumers extending phone life cycles."
Sacconaghi added:
"Back in October, Apple's executives conceded that they believe replacement cycles have elongated perhaps 3 to 4 months over the past few years but asserted that average replacement cycles for new iPhones remained comfortably under three years. Give the sharp slowdown seen since then, has management view on this matter shifted? Has there only been a divergence between upgrade rates in some markets (e.g Chinas) and not others?"
He pointed to the 8 per cent decline of the overall China LTE smartphone market in 2018 and Apple's 25 per cent drop, asking if Apple's loss of market share to local brands including Xiaomi, Huawei and Oppo could be more permanent. The trade tariff war between the US and China could promote nationalist fervour to stick with those homegrown vendor's smartphones.
Bernstein noted China has a "fickle consumer base" and that Apple sales struggled in the past, reporting sales falls between Q2 '16 and Q3 '17. It could be that the latest premium models do not hit the spot.
Apple's share price has fallen from $232.07 in October to $156.30. ®