Edgy Cisco pushes out cloud-native, look-at-NVMe HyperFlex HCI
Optane in the membrane caching, FPGA card for added v4.0 grunt
Cisco has added performance features to its HyperFlex hyperconverged infrastructure (HCI), with all-NVMe systems, Optane SSD caching and FPGA acceleration. It has also extended HyperFlex out to ROBO* sites with central management.
HyperFlex 4.0 was announced at Cisco's Barcelona CLEUR gig and features Edge 3-node clusters, with one or two UCS M4 or M5 (Xeon SP) CPUS per node. Once racked, cabled and switched on the systems can be managed remotely using Cisco's Intersight cloud-based management facility.
There are 11 HyperFlex flavors, which are 1U or 2U in size depending on the model, and are based around HX 220c and 240C M4 and M5 systems, meaning fourth and fifth generation UCS servers. The M5s use Xeon SP processors with the M4s using earlier Xeons.
| | | | | |
| --- | --- | --- | --- | --- |
| HyperFlex Models | Hybrid | All-Flash | NVMe | ROBO |
| 220c M4 | 220c M4 | 220c AF M4 |   | 220c Edge M4 |
| 220c M5 | 220c M5 | 220c AF M5 | 220c All-NVMe M5 | 220c Edge M5 |
| 240c M4 | 240c M4 | 240c AF M4 |   |   |
| 240c M5 | 240c M5 | 240c AFM5 |   |   |
The HyperFlex system could be used for ROBO (remote and branch office) and other Internet Edge deployments before v4.0. The new thing is support for the central cloud-based Intersight management facility lessening the need for skilled IT staff at the edge sites, in theory at least.
An edge site is shipped as a 3-node cluster with an upper limit of 4 nodes. Get an M5 Edge datasheet here.
Optane and NVMe
The HX 220c All-NVMe M5 system has 8 x 1TB or 4TB NVMe capacity drives plus one NVMe 240GB SSD for caching and another for write-logging.
The datasheet doesn't say whether these are Optane SSDs but a Cisco blog stated: "Our latest HyperFlex release ups the game on performance yet again by utilising Intel Optane caching and all NVMe capacity drives."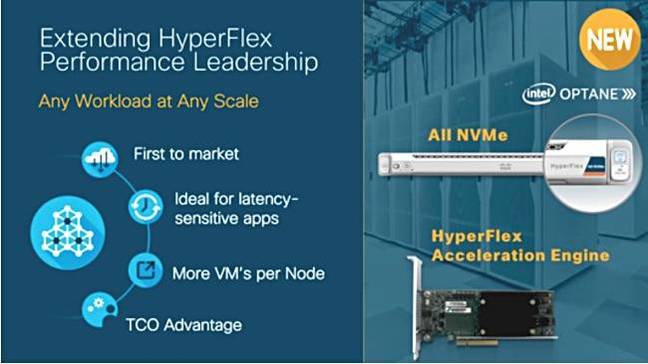 Cisco HyperFlex 4.0 slide.
Cisco actually announced Optane caching support in HyperFlex v3.5 in June, so this v4 inclusion is after the fact.
This all-NVMe/Optane caching system should be great for latency-sensitive apps,
Hardware acceleration
The v4.0 release also supports use of an add-in PCIe card featuring an FPGA. This is the HX-PCIE-OFFLOAD compression/decompression offload card that was supported in HyperFlex v3.5 and shipped in January, 2019.
Cisco said it provides:
Higher top line storage IO performance (up to 18 per cent increase in its 70/30 mixed block size tests)
Up to 14 per cent reduction in latency
Higher compression efficiency with up to 30 per cent capacity savings
It can be fitted to new deployments of the HX 240c M5SX and M5L all-flash and hybrid models but not if they run Hyper-V or are in stretch clusters. All nodes in the cluster must have the card and the cards don't work with HX Data Replication.
Cloud native
HyperFlex v4.0 has also gone cloud native, with support for the RedHat Openshift Container Platform and the Kubernetes Container Storage Interface (CSI.)
We don't have availability or pricing data for the all-NVMe HyperFlex nodes.
Cisco's main competition in the area is Nutanix, followed by Dell EMC/VMware. ®
*Remote office/branch office