This article is more than 1 year old
Underfunded HCI startup Maxta hits the buffers as VC cash runs out
Startups getting squeezed as market settles into maturity
Exclusive Hyper-converged infrastructure startup Maxta is closing its doors – after being unable to obtain funding and make progress in the face of a solidifying HCI market.
We have heard from four sources that Silicon Valley-based Maxta is closing down this week. One source said 65 people were given their final pay checks, and told their healthcare benefits are ending.
Two of the other sources added that staff were told of their fate at an all-hands meeting at 3pm on Monday this week – that the biz was shutting up shop, and letting them go with no special payoff packages.
A Maxta spokesperson told us: "Maxta has had a reduction in force. Considering various strategic options."
The HCI appliance market is rapidly maturing, dominated by Nutanix and Dell EMC. Major players Cisco, HPE and NetApp also have skin in the game. But that hasn't stopped VC-backed startups trying to break in.
Maxta was started up in 2009 and we have two funding rounds recorded; a $10m A-round in 2013 and a $25m B-round in 2014 – taking total funding $35m. Since then, nothing. That means four years of burning cash and making what revenue it could from sales.
The key investors were Intel Capital, Tenaya Capital and Andreesen Horowitz. They might find it hard to justify investing more development cash in a startup that's nine years old and has not succeeded in a market that is looking increasingly mature and stabilised, if not solidified.
It signed a deal in March 2016 with Lenovo for an HCI system to be sold into China. Since then, the relationship seems to have flatlined, with Lenovo making deals with Pivot3 and Scale Computing.
Maxta has pushed an anti-vTax story by supporting open source hypervisors, but Nutanix and Scale have too, so that marketing tack is not differentiating Maxta from its competitors.
Other HCI startups
Maxta has been underfunded compared to its peers, who have raised three or four times more cash than the now-troubled startup.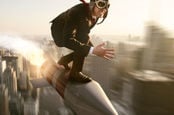 Joy to the vendors, HCI's day has come. And converged ... becomes less... of a thing – IDC
READ MORE
Atlantis has crashed, with its assets bought by HiveIO. Datrium has taken in $165m and is pushing hard with a new CEO, Tim Page, who joined in June 2018, to make it in the HCI market.
HyperGrid has pivoted to SaaS with its HyperCloud HyperCloud cloud management platform, and taken in $93m. Pivot3 is selling to the Edge computing market through partnerships with systems vendors like Lenovo, Maxta's erstwhile China partner, and has taken in a total of $247m; making Maxta's funding look like a slimming course investment diet.
Scale Computing has taken in $104m and also selling into the edge computing market as well as enterprise remote and branch offices. Some of that funding has come from Lenovo, further distancing that company from Maxta.
Our conclusion is that the HCI startup door is swinging shut and Maxta has failed to pass through it. El Reg can't see how it could possibly persuade VCs to jump in with more money. Sadly, the end is nigh. ®