AMD stock edged upward in after-hours trading merely for meeting investor expectations, because it could have been much worse given Nvidia's recently trimmed guidance and TSMC's manufacturing troubles.
For Q4 2018, the chip biz reported on Tuesday $1.42bn in revenue, up six per cent year-on-year, amounting to GAAP EPS of $0.04. That's exactly what financial analysts predicted in terms of earnings; revenue expectations were a bit higher at $1.45bn. Operating income came in at $28m, better than $2m loss a year ago, and net income hit $38m, better than the year ago's $17m loss.
In a statement, AMD president and CEO Lisa Su touted the company's second straight year of significant revenue growth.
"We more than doubled our EPYC processor shipments sequentially and delivered record GPU datacenter revenue in the quarter," she added. Admittedly, that Epyc double-up is effectively going from roughly two to four per cent of the data center compute market, but it is what it is. IT buyers interested in AMD server processors are mostly waiting for the second-generation Epyc, Rome, to land.
"Despite near-term graphics headwinds, 2019 is shaping up to be another exciting year driven by the launch of our broadest and most competitive product portfolio ever with our next-generation 7nm Ryzen, Radeon, and EPYC products," she continued, painting a rosy picture for the year.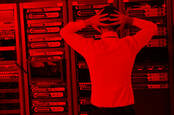 Intel boss: Expect chip shortages into mid-2019
READ MORE
For the full year, AMD reported $6.48bn revenue, up 23 per cent year-on-year, which translates to $0.32 per share. Operating income and net income for the year came in at $451m and $337m respectively, up from $127m and -$33m a year ago. It was a good year for the company, with its stock up about 70 per cent over that period.
The chip biz attributed its success to demand for its higher margin products in the Computing and Graphics segment, which resulted in $986m in revenue. That's up 9 per cent year-over-year due to sales of Ryzen processors and data center GPUs. About two-thirds of its Q4 sales, the company said, were from new products like Epyc, Radeon datacenter GPUs, and Ryzen.
AMD's Enterprise, Embedded and Semi-Custom segment remained flat, with revenue of $433m.
The company also called attention to its wafer supply agreement with Globalfoundries, which will continue its partnership with AMD for 12nm products through 2021. The arrangement also provides AMD with sourcing flexibility for 7nm products and beyond – meaning it can go to other fabricators, like TSMC, for 7nm chips while tapping up Globalfoundries for 12nm parts. ®