This article is more than 1 year old
Apple: Good news, everyone – sales are less bad than we thought. Not amazing but not bad. $84bn is $84bn, tho
Cook and co get a boost after topping their own low bar
Apple managed to turn what was expected to be a terrible quarter into merely a not-so-great one as the Cupertino phone-flinger barely topped its own recently lowered estimates.
As expected when CEO Tim Cook issued a warning to shareholders earlier this month, Q1 FY 2019 (PDF) revenues took a significant hit from the same period a year ago as sales in China nosedived and worldwide iPhone sales dipped 15 per cent in Apple's busiest period of the year.
Still, it banked 20 (twenty) billion dollars in profit, from sales of $84bn. For the quarter, ending December 29:
Revenue of $84.3bn was down 5 per cent from $88.3bn last year. It was also short of the $89-93bn guidance Apple gave at the end of last quarter, but slightly better than the $84bn Cook had warned of.
Net income of $20bn was down slightly from $20.07bn in Q1 2018.
Non-GAAP earnings per share of $4.18 beat the $4.17 analyst estimate.
China revenues of $13.17bn were down sharply from $17.96bn, as Apple had warned. China was not the only market to see a hit, as Europe and Japan revenues also fell slightly.
iPhone revenues of $52bn were down 15 per cent from $61bn last year.
Mac revenues of $7.42bn were up from $6.82bn in Q1 2018.
iPad saw growth from the year-ago quarter with revenues of $6.73bn up from $5.76bn.
Wearables revenue of $7.31bn was up significantly from $5.49bn in the year-ago quarter.
Revenue in the Services business was $10.9bn, up from $9.1bn.
Cook shrugged off suggestions that Apple had priced itself out of the market with the latest iPhone models, instead placing the blame on inflation and carriers who were no longer willing to subsidize the cost of phones out of their own pockets.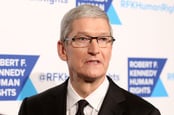 Ouch, Apple! Plenty of iPhones stuck in tech channel. How many? That's a 'wild card'
READ MORE
"[The price] is actually a pretty small difference in the US compared to last year, however the foreign exchange issue amplified that difference in international markets, in particular the emerging markets," the Apple boss told analysts on a conference call.
"The subsidy is probably the bigger of the issues in the developed markets. If your last purchase was a 6S or 6, or even a 7, you may have paid $199 and obviously in the unbundled world it is much more than that."
Things don't look to be getting much better in the coming months, as Apple will likely be seeing a second consecutive quarter of falling revenue. Q2 estimates of $55-59bn stand to be well short of last year's $61.1bn mark.
For today, at least, Apple was rewarded for beating its earlier estimate, as share price jumped 6 per cent in after-hours trading to $164.27. ®