While US fires criminal charges at Huawei, UK tells legislators not to worry, everything's fine
We have 'unparalleled arrangements' don't you know
While the US was preparing criminal charges against Huawei and its exec, British government spokespeople were telling Parliament they are quite happy with the UK's "unparalleled arrangements" for finding backdoors in Huawei source code.
Yesterday evening American prosecutors unveiled criminal charges of fraud against Huawei founder Ren Zhengfei's daughter, Meng Wanzhou, who is also the Chinese networking equipment maker's CFO.
Both Meng and Huawei are accused of ignoring American sanctions on Iran, with the company's US subsidiary being held responsible for the actions of the parent company in China.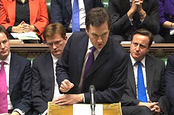 Osborne to China: Keep watching Downton and we'll gloss over Huawei security worries
READ MORE
More eye-openingly, Huawei is also accused of intellectual property theft in a separate but related lawsuit (PDF, 28 pages) brought by American federal prosecutors on 16 January. A week after those charges were filed, British parliamentarians were busy reassuring MPs and peers that the government is quite happy with Huawei, thank you very much.
Lord Young of Cookham, a Conservative peer and government whip in the House of Lords, told peers: "We have set up unparalleled arrangements in this country" for assessing the security of Huawei equipment and software, referring to the Huawei Cyber Security Evaluation Centre (HCSEC) operated by spies from GCHQ's public-facing brand, the National Cyber Security Centre (NCSC). In summer 2018 those assessors sounded a muted alarm about security – specifically, "security critical third party software" that was "not subject to sufficient control" because it was due to reach end of-life by 2020.
BT subsequently began uninstalling Huawei equipment from its 3G and 4G mobile network cores in December, publicly insisting that this was simply because it was legacy equipment inherited from EE when the mobile operator was bought out by BT in 2016. As BT recently won domestic ISP licences in China – including a coveted domestic VPN licence – it is likely, in The Register's view, that this genuinely was a pre-planned uninstallation and not a reaction to security fears, trumped-up or otherwise.
On the same day last week as Lord Young was soothing worried lords and ladies, Cabinet Office minister David Lidington answered a Parliamentary question from the Labour opposition by confirming he held "regular discussions" with other ministers about Huawei, its role in the UK's critical national infrastructure and the findings of the HCSEC.
Most of Britain's Anglosphere allies have publicly disowned Huawei or claimed the company presents a security threat. While it is true that the firm has very strong links to the Chinese state, and China has no compunction about exercising that control for its own ends, so far there is notably little in the way of hard proof that Chinese network equipment contains actual backdoors or other features intended for espionage or theft of trade secrets.
Perhaps the US cases will reveal more evidence. For now, it is clear the UK has no intention of upsetting China more than it absolutely needs to. ®