This article is more than 1 year old
Iceland starts planning for new undersea internet cable to Europe
Route to Ireland via UK will be surveyed, says local ministry
Iceland has made public its plans to build a fourth undersea internet cable to Europe. While one Icelandic news outlet reported that this was because of "security reasons", the truth appears a bit more mundane.
The North Atlantic island state wants to build a fourth cable to either the UK or Ireland, according to the country's Ministry of Transport and Local Government.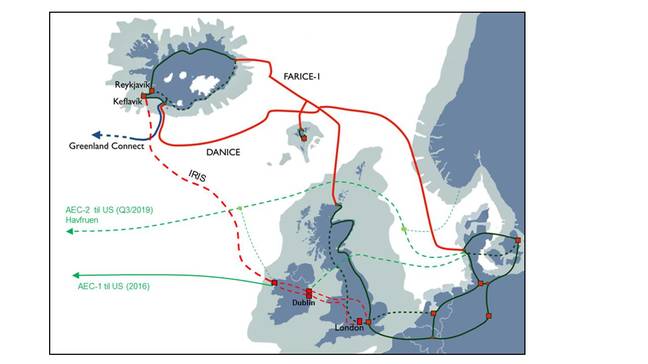 Map via Icelandic Ministry of Transport and Local Government website
As can be seen from the above graphic, two of Iceland's existing submarine comms cables terminate in Scotland and Denmark, with the Scottish cable joining an existing, non-Iceland-owned overland route to London. The Irish plan would see a new cable landing in County Mayo and then taking a new route to London, crossing the Irish Sea via Dublin and north Wales.
Iceland's authorities have tasked a survey ship from the state-owned Farice cable company with surveying the proposed route from the fishing town of Grindavik on Iceland's southern peninsula to the Irish hamlet of Killala, prior to any cables being laid. It was not immediately clear whether the Ireland-UK cable would piggyback off existing capacity, of which there is plenty, or whether Iceland would fund a new dedicated link.
Local TV station RUV reported: "Both for data security and to ensure Iceland's ability to receive and send large amounts of internet traffic, it is considered important to establish a third physical point of contact with mainland Europe."
El Reg reckons "secure" here is in the sense of "security of supply" rather than having that data securely bypass a soon-to-be-non-EU Britain, though we have asked Farice for comment and will update this article if they respond. Ireland currently has just the one undersea comms cable linking it to mainland Europe (the imaginatively named Ireland-France Cable-1, which has not yet been commissioned).
For some reason the cable map from Iceland's government, reproduced above, does not include Iceland's third cable to Europe: the eastern part of the 25-year-old 5Gb/s Cantat-3 link, whose Iceland-Denmark and Iceland-Germany segments are still operational. It also serves oil rigs in the North Sea. Originally a transatlantic cable, Cantat-3's western link from Iceland to Canada was abandoned a few years ago.
Iceland's other operational cables to Europe are the 5.2Tb/s Danice, which also runs between Denmark and Iceland, and the 720Gb/s Farice-1, which was laid in 2004, as we noted some years ago. ®