Another Apple engineer cuffed over alleged self-driving car data theft: FBI swoop on bod as he boards plane to China
Jizhong Chen accused of copying work drive, snapping pics of highly secretive project
A second Apple engineer has been arrested by the Feds for allegedly stealing copies of the tech giant's self-driving car blueprints.
Jizhong Chen was hired as an electrical engineer in June 2018 for Cupertino's secretive autonomous vehicle project in the US, which Apple has still yet to publicly acknowledge. On January 11 this year, he was spotted taking pictures of his workspace. Apple security bods swooped, and allegedly found that Chen had downloaded an entire copy of his work hard drive onto a personal drive as well as taken thousands of photos of the biz's robo-car technology.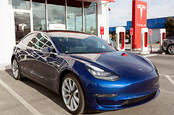 Talk about left Field: Apple lures back Tesla engineering guru
READ MORE
When challenged, Chen claimed he had grabbed the information to support his applications for jobs in other parts of Apple after he was placed on a "performance improvement plan" that is basically a warning he will be fired for sub-par work unless higher-ups are convinced he has been able to up his game. He was placed on the plan in December last year.
Investigations by Apple revealed that Chen had applied to two jobs outside the iPhone giant, including one with a Chinese self-driving car company. The iTitan swiftly suspended him with pay, and reported the issue to the FBI. Agents then dug into his files, grilled him in interviews, and eventually suspected he was guilty of stealing trade secrets.
The crunch came, however, when, one week after being suspended, Chen told Apple he was planning to fly from America to China to visit his sick father. Apple asked him to delay flying until January 22, which he agreed to, and then told his employers he would be flying out on the 23rd.
On January 22, the FBI filed a complaint in court that accused Chen of breaching federal trade secrets, had the complaint sealed, and then applied for and received an arrest warrant. Within hours of getting the green light from a judge, the Feds swooped, and collared and charged Chen, just before he got on the plane to the Middle Kingdom. Details of the allegations, submitted to a California federal district court, were unsealed yesterday [PDF].
Not the first
Chen's arrest follows that of another engineer on the same project, Xiaolang Zhang, who was arrested in June at San Jose airport in California on his way from the US to China. In that case, Zhang had just returned from a trip to China, and had promptly informed his boss at Apple that he was quitting and was going to work for Chinese electric car company Xiaopeng Motors.
His boss informed Apple's security bods who grabbed his phones and laptop, and escorted him off the grounds. Review of his activities revealed Zhang had been extremely active on Apple's network just prior to his trip to China and had made an unusual Saturday visit to his workplace just prior to resigning. He was arrested and charged, and has pleaded not guilty of stealing trade secrets.
What's interesting about the latest complaint is that it reveals more about Apple's self-driving program in one document that has been made public in the years of its existence.
The affidavit from the FBI agent assigned to probing Chen reveals the enormous lengths Apple has gone to keep its robo-ride project secret, including a separate building that only employees on the project itself can enter. The team and its location are not even listed in Apple's internal materials.
Apple core
Of Apple's 140,000 employees, 5,000 are working on its self-driving car program, and of them just 1,200 are "core" employees with access to the project building, according to the FBI. Those core staffers are split into siloed departments, and only have access to their own department's databases with every request to look outside their immediate area of work reviewed by an administrator.
In addition, everyone on the project is given special training before they start that details how they are not to talk to anyone about their work – even family members – and are not allowed to store project details on anything but devices they keep on their person. They are also taught how to send information securely.
And if that sounds like an exciting prospect to you rather than a dystopian nightmare, welcome to Apple!
Chen faces ten years in prison and a $250,000 fine if found guilty of stealing trade secrets. He has been released on $500,000 bail after coughing up $100,000 in cash and putting some property up as collateral. ®