This article is more than 1 year old
Brexit-ready BT sits back, watches profit rise in CEO's swansong quarter
That's what happens when you axe the jobs of your nearest and dearest...
BT's exiting chief exec Gavin Patterson is bowing out on a relative high as profits leapt by more than a quarter for the first nine months of this fiscal year, boosted by the cost-cutting programme.
Patterson, whose £1.3m pay packet caused some rumblings of dissent from shareholders, is to be replaced by ex-Worldpay boss Philip Jansen from 1 February.
Nevertheless, he oversaw the early stages of a dramatic revamp plan at the telco, one that he hatched in May: 800 people were laid off during the final three months of 2018. Now there are just another 12,200 to go over a total of three years.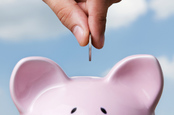 BT: We're shuttering final salary pension scheme
READ MORE
In a trading update, BT today reported revenues of £17.6bn for the nine months ended 31 December, down 1 per cent on a year ago.
BT hiked prices in September for landlines, broadband and handsets, which fed into a 3 per cent jump in the Consumer division to £8.057bn but all other units reported a drop in turnover.
Enterprise blamed a declining fixed line voice market for its 5 per cent drop to £4.728bn; Global Services said its decision to "reduce low margin business" was the main cause of a 6 per cent drop to £3.534bn; and Openreach was down 4 per cent to £3.804bn due to "regulated price reductions" on its Fibre To The Channel and Ethernet products, and volume discounts.
Profit before tax was up by a fifth to £2.094bn and net profit grew 26 per cent to £2.810bn. BT said cost savings helped improve its bottom line, admitting it had "lower labour costs" in Enterprise and Global Services.
"Initiatives to transform our operating model are on track; restructuring programme removed circa 800 roles in the quarter," BT said. Other cost-cutting measures included BT closing its central London HQ.
For Q3, BT reported revenue of £5.982bn, down 3 per cent; Consumer was up 4 per cent to £2.785bn; Enterprise was down 6 per cent to £1.654bn; Global Services fell 5 per cent to £1.202bn; and Openreach dropped 9 per cent to £1.256bn. Inter-group eliminations was £818m.
The incumbent telco also updated on its preparations for Britain leaving the EU on 29 March, again saying it is prepared for the potential of a no-deal Brexit. It reiterated earlier claims:
"Our contingency planning is focussed on ensuring we can continue to provide uninterrupted service to our customers, including sufficient inventory to protect against potential import delays.
"We are also making the necessary changes to our contracts and processes so that we will continue to be able to transfer customer data to and from the EU. A disorderly exit could have a damaging impact on consumer and business confidence. It is too early to estimate the size of any potential impact." ®