Hot on the heels of Intel's reported acquisitive interest, Ethernet and InfiniBand networker Mellanox has closed out its final quarter of 2018 with an Ethernet-boosted bottom line.
Tallying with last year's reported results, increased demand for cloudy and hyperscale storage drove the uptake.
For its fourth quarter of fiscal 2018, ended 31 December '18, the firm reported $290.1m in revenues, up 22.1 per cent year-on-year, and $42.8m profit, up from a loss of $2.59m the year before. Mellanox chalked up its top line boost to "record sales" in its Ethernet switches and LinkX cables and transceivers segment.
Cash and investments totalled $438.5m at year-end compared to $273.8m last year.
Mellanox's full year figures were $1.1bn in revenues, up 36 per cent annually, and a $134.3m profit compared to a $2.6m loss in fiscal '17.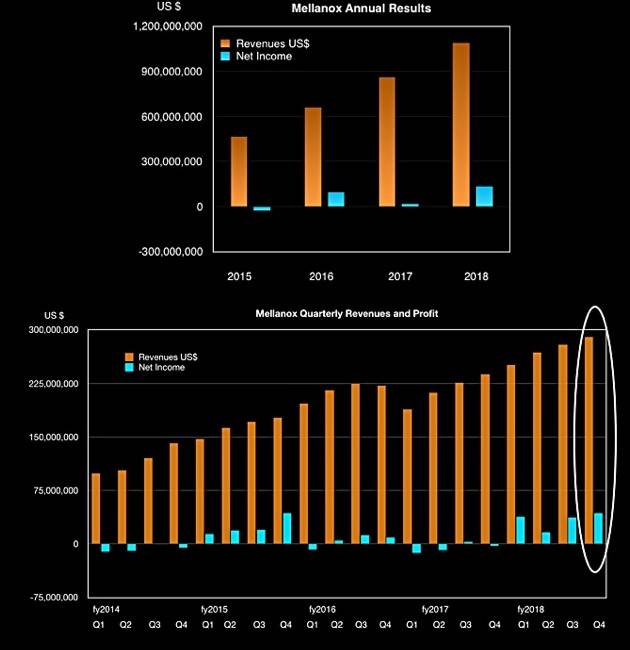 Mellanox revenuea and profits with a blow-out final 2018 quarter,
Ethernet sales rose 21 per cent year-on-year, with 25Gbit products selling well and the transition to 100Gbit tech starting; 2018 sales were 2.5 times those in 2017.
InfiniBand sales grew less strongly; they were up 8 per cent on the year, with 200Gbit HDR product sales ramping up. It expects InfiniBand revenue to grow in the upper single to lower double-digit range in 2019 supported by the race to Exascale supercomputing.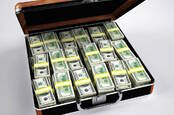 The Six Billion Dollar LAN: Intel hopes to gobble network kit biz Mellanox
READ MORE
BlueField SoCs, which combine Ethernet and InfiniBand, are seeing traction as SmartNICs, storage controllers, and Edge computing devices. It's seeing interest in BlueField as a storage controller from multiple large OEM, cloud and hyperscale customers who think it's good for scale-out NVMe-over-Fabric storage arrays.
The earnings call was revealing about Intel's competing Omni-Path InfiniBand products, with Mellanox president and CEO Eyal Waldman saying: "We're not seeing demand for Omni-Path almost at all ... So InfiniBand is gaining momentum and taking big market share from Omni-Path."
A failing Omni-Path product tech would help explain Intel's interest in acquiring Mellanox.
China is seen as a growth market by Mellanox, notwithstanding US-China trade tensions.
Waldman was asked to compare the Chinese and US markets, and said: "First, in 2018, we grew very nicely, much more than in the US, in China" - without getting specific.
"Second, we expect to continue growing, we believe maybe even faster in China than in the US in 2019. And we're in a pretty diversified talent base in China. Tier 1 hyperscale, Tier 2 hyperscale, government and education and so on so; we expect to continue growing 2019 in China." ®
Similar topics
Narrower topics