You're the Swan that I want, you are the Swan I want, ooh ooh ooh: Intel anoints Bob as CEO
Swan's throng. Chipzilla's only Swan and done it. And Swan more for luck, etc etc
Intel on Thursday filled its vacant CEO slot with the appointment of Robert Swan, who has been moonlighting as interim CEO over the past seven months while simultaneously serving as CFO.
The vacancy at the top of the chip biz arose when former CEO Brian Krzanich quit last June after code of conduct violations came to light. The board discovered he'd had a consensual relationship with a fellow Intel employee that ended in 2013, prior to becoming CEO, although other factors might have played a part in his resignation.
Swan, 58, has served as Intel's CFO since 2016. After becoming interim CEO in June last year, he reportedly told staffers he didn't want to run the chip biz. But like Shakespeare's Richard III, who made a show of refusing the crown, Swan has bowed to the entreaties his supporters.
"I am a bit surprised as Swan said he didn't want the role, but I always thought that he should be considered it," said Patrick Moorhead, president of consultancy Moor Insights & Strategy, in an email to The Register. "Swan tells me that as he was in the interim CEO role, he started to like to and enjoy it."
Indeed, Swan said as much in a letter to Intel employees on Thursday. "I am honored and humbled to be named Intel's CEO," he said. "I loved my role as the CFO, and over the past seven months I have come to love our company even more – and its mission, employees and customers. [Careful mate, that's what got the last bloke into trouble – ed.] When the board approached me about taking the CEO role, I jumped at the opportunity to remove 'interim' from my title."
Investors meanwhile have taken the opportunity to invest in competitors – at the time this story was filed, AMD's stock was up about 7 per cent for the day and Intel's was down about 1 per cent.
Other candidates rumored to have been in the running as alternatives to Swan include: VMware CEO Pat Gelsinger, who worked previously for Intel; Venkata Renduchintala, president of Intel's PC and manufacturing groups; Navin Shenoy, general manager of Intel's data center group; Diane Bryant, a board member of United Technologies and former president of Intel's data center group.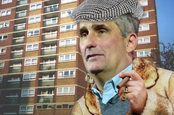 Former Intel love rat Krzanich finds his calling, lands at biz that sells tech to car dealers
READ MORE
Intel has been struggling to deliver 10nm chips and last year had to scramble to address side-channel vulnerabilities in its processors. Meanwhile, perennial also-ran AMD has fielded credible competitive silicon and has been regaining CPU market share in recent quarters.
Evidently undaunted by its fab fumble, Chipzilla maintains Swan is the right person for the job. "The search committee conducted a comprehensive evaluation of a wide range of internal and external candidates to identify the right leader at this critical juncture in Intel's evolution," said Andy Bryant, Intel's board chair, in a statement.
Moorhead sees nothing wrong with the company's habit of hiring from within.
"I do think Intel's strategy is the right one, the company needs to improve its execution, and bringing in an outsider without Intel experience didn't make sense," he said. "Intel has a very strong bench, two who were considered for the CEO role, who will help Swan and Intel."
The company's strategy, as described in Swan's letter, sounds somewhat scattershot: it involves being "bold and fearless" while executing a "core strategy [that's] not changing" as the company changes "from a PC-centric to a data-centric company" while insisting "execution must improve."
Swan will have his hands full simply producing enough chips to address shortages. ®