Despite revealing licensing and chip sales fell by 20 per cent in its latest quarter, shares in Qualcomm managed to hold steady in after-hours trading on Wednesday. They were up a tad over two per cent to $51.40 apiece following a bold outlook for the year.
"We are pleased to announce a good first quarter, particularly in the face of the headwinds facing the industry," CEO Steve Mollenkopf told analysts in a conference call after announcing the figures. "Several positive trends allow us to be optimistic for a strong second quarter performance."
Here are the key takeaways from Qualcomm's Q1 fiscal 2019 aka the three months to December 30, 2018:
Revenue fell to $4.8bn, down one fifth from $6bn this time last year, as the smartphone chip designer deals with softening demand, in the phone sector particularly. This sales total is about $80m below Wall St's expectations, so analysts were more or less braced for a 20-per-cent plunge in revenue.
Net income was, on the other hand, $1.1bn, up from a $500m loss in Q4 fiscal 2018, and a $6bn loss this time last year, although that hit was due to a tax charge related to bringing foreign earnings back to the US and its bumper antitrust fine in Europe. Operating income for the latest quarter was $700m versus a big fat zero in the year-ago period.
Operating expenses were slashed, thanks to a year of layoffs and restructuring, by 32 per cent from $6bn a year ago to $4.1bn in this latest quarter. We mention this to help explain how Qualcomm can still turn a fat profit despite falling sales. The biz put itself on a diet to keep shareholders happy, and prevent them from being lured into accepting Broadcom's ultimately doomed hostile takeover bid.
Earnings per share were $0.11 better than analysts' expectations, at $0.87 GAAP and $1.20 non-GAAP. Qualcomm's guidance for its next quarter kept the stock mrket happy for now: it's expecting to record $4.4bn to $5.2bn in sales, versus Wall St's estimate of $4.8bn.
Where did it all go wrong in Q1? Qualy's chip-designing arm, QCT, saw its revenues fall 20 per cent, year on year, to $3.7bn, as shipments of its Snapdragon chips fell 22 per cent to 186 million. Just not enough phones with its chipsets being sold, it seems.
Its patent-licensing arm, QTL, booked revenues of $1bn, also down 20 per cent due to Apple and other organizations withholding royalties amid the epic QCOM-AAPL legal war over pushy supply deals and intellectual property fees. That licensing figure did include $150m in royalties from Huawei, which has agreed to cough up cash in an interim agreement with Qualy. It was previously undisclosed that Huawei was among the hardware manufacturers refusing to pay the American chip designer.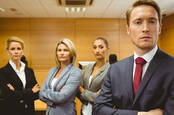 US watchdog legal fight against Qualcomm and pushy chip deals closes
READ MORE
Overall, Mollenkopf was in an ebullient mood on the conference call, saying that his 7nm Snapdragon 855 system-on-chip was doing very well with over 100 manufacturers using the thing, the company's relationship with Huawei was on a good footing, and operating expenses were much lower following various layoffs, the end of Centriq, and a corporate restructuring, triggered by Broadcom's stalking Qualy.
He also predicted that 5G revenues would kick up a notch in the coming year, saying that they were working with over 320 operators to have Qualcomm radio modems in their kit. When asked about Intel's competing 5G offering, Qualcomm execs on the call were dismissive, saying (unsurprisingly) that only its kit covers all the technologies needed.
Mollenkopf was similarly bullish about the outcome of its ongoing court battles with Apple. He lauded the Chinese and German courts for enforcing bans on offending Apple kit, and said that he expects to win the antitrust lawsuit brought against Qualcomm by the FTC in the US.
Demand for smartphones, and the chips they contain, is definitely dropping, though Qualcomm estimates the market will still grow by about one per cent next year. The trickiest markets for Qualcomm right now are China and developing nations, though Mollenkopf said that rising 5G demand and increasing intellectual property royalty payments should mean the company has a decent 2019 ahead. ®
Similar topics