This article is more than 1 year old
Amid polar vortex... Honeywell gets frosty reception after remote smart thermostat tech freezes up for a week
Just use manual control, says biz. Then why did we buy 'smart' controls, ask customers
Honeywell's remote-control "smart" thermostat platform has been down for a week, leaving thousands of customers fuming.
The unironically named Total Connect Comfort platform allows home and business users to set the thermostat's temperature from their smartphones via the internet. However, for the past week, customers in both the UK and US have been informed that the service is offline, and frustration is growing.
Beyond being told that the service is "undergoing maintenance" the company behind the service – Resideo – has failed to provide any information about the outage. Multiple attempts by The Reg to contact Resideo and Honeywell have elicited no response.
A single Twitter post from Friday noted that "some users may be experiencing connectivity issues with our Total Connect Comfort app," and dismisses concerns since "your thermostat continues to perform as intended locally, and it will reconnect with the app when our maintenance is completed." That's cold comfort for someone who spent $150 because they wanted an internet-connected remote-controllable gizmo.
The biz also appears to be trying to sort out the issue customer-by-customer with its Twitter feed asking customers for their email address to resolve ongoing problems.
Meanwhile, with no clear way of contacting the company and no information about the outage of when it expects the service to be back up, users are growing increasingly angry.
Not good
"This is ridiculous," one unhappy customer post on Twitter this morning. "When are the TCC servers and app going to be working again? Seeing as I can't get a response from someone in the UK how do I get resolution on this?"
Another: "My T5 has disappeared from the app. Adding it back ends failing registration. Is this nonsense part of the 'maintenance' issues?" And another: "Lost connectivity on two thermostats NOW. Why can't you get this together?"
And another: "Your customer service is non-existent. Being told (for the past 5 days) that "some users are experiencing difficulties" and there is NO ONE to answer my call is ridiculous #nostars #customerservice #getittogether."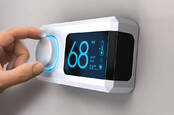 Are your IoT gizmos, music boxes, smart home kit vulnerable to DNS rebinding attacks? Here's how to check
READ MORE
As time goes on, the company's claim that the service is down for "maintenance" has come under increasingly scrutiny.
While it is indeed still possible to physically walk to the previously-smart-now-dumb thermostat and adjust it, customers who have grown used to setting the temperature remotely – either from a different part of their house or while away from the house – clearly feel that a week without explanation is too long. With both the UK and part of the US experiencing unusual low temperatures, many have also been using the feature to makes their homes cozy.
With no information from the manufacturer it is difficult to know what is going on: users are reporting that their phones report simply that the service is "offline." The long delay, combined with poor customer service, has started impact the entire service's credibility with some users openly discussing shifting to competing products from Nest and Ecobee.
We have contacted Resideo to ask for an explanation, and will update this story if the organization bothers to get back. ®
Updated to add
A spokesperson for Resideo has been in touch to say its cloud infrastructure couldn't keep up with its customers' devices:
Some of our customers that have attempted to control their thermostats via our app have experienced periodic connectivity issues with their connected thermostats recently. Strong growth in our connected thermostats is one cause, which has increased the load on our cloud infrastructure. We're in the process of implementing upgraded infrastructure across our connected products to ensure reliability due to greater demand, and mitigating issues with our existing infrastructure.
We notified our customers by email and social media that they may experience brief, intermittent connectivity through February as we implement new systems.
In our communications, we reassured customers that during these brief, intermittent outages, the thermostats would perform as intended locally, control the heating and cooling equipment correctly, and follow any schedules the homeowner has created. We recognize that many customers purchased these thermostats to control them remotely, and not being able to for a short time is an inconvenience.
We sincerely apologize for any inconveniences the outages have caused in the interim.
Thanks to Reg reader Oliver for the tip.