This article is more than 1 year old
Node your customer, right NetApp? It's only gone and hooked up MAX Data to HCI
PMem software hustle for the hyperconverged – if all goes to plan...
Analysis NetApp intends to extend its MAX Data persistent memory (PMem) server tiering scheme to its hyperconverged systems, potentially creating hideously fast HCI nodes.
Servers using PMem should access data faster than otherwise, executing applications faster and/or running more virtual machines or containers.
MAX Data supplies a POSIX file system to applications which access data in a persistent memory storage cache/tier in their server. Basically that means Intel's Optane 3D XPoint DIMMs. This fast-access tier is fed data from and writes to a backend ONTAP all-flash array hooked up to the servers across an NVMe-over-Fabrics link.
El Reg's storage desk wondered if MAX Data could be used by NetApp's hyperconverged systems (HCI), thinking it might produce faster data access for them, too. These have compute nodes using backend Solidfire Elements all-flash storage.
Get MAX Data running in the compute nodes and have it tier to the Elements array – you can see the way we we're thinking.
We asked Octavian Tanase, NetApp's SVP for Data ONTAP, who said: "We want to leverage MAX Data across the board in our portfolio. The initial solution uses ONTAP, next is cloud. We'll then follow with support for generic DAS. Once our HCI solution (NetApp HCI rather than Elements HCI) starts packaging persistent memory, we further expand the MAX Data to that realm and it won't require ONTAP. The in-memory file system will tier into the underlying OS."
We're seeing a staged extension to the HCI system, with the first step being to the cloud, then direct-attached storage (DAS) and finally HCI.
How it would work
The cloud extension seems fairly straightforward, using ONTAP in the cloud: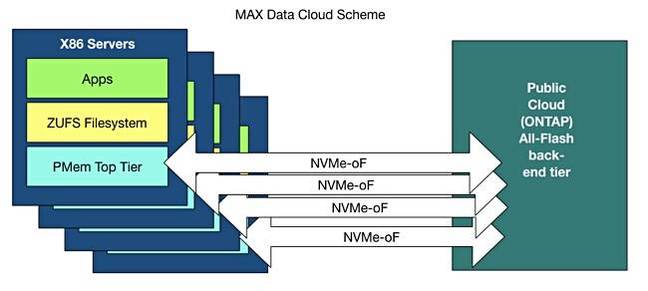 It's easy to imagine, in theory, the ONTAP cloud software being replaced by another public cloud storage facility.
Now let's envisage the DAS extension: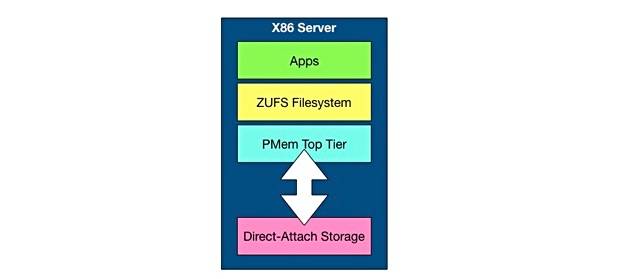 Bundle a set of these servers together and the HCI scheme would then look like this: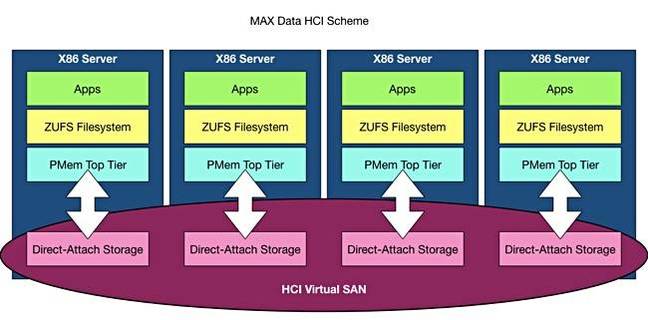 What would be the benefit?
Speed, and lots of it with all-NVMe flash nodes. The HCI system would run applications faster and/or run more VMs and containers. That would cause problems for other HCI players, such as Dell Technologies, Nutanix, Cisco, HPE, Scale Computing, Pivot3 and DataCore. They are all going to have to use PMem too, and find some way of giving it backend storage.
That means writing code from scratch or buying in technology. It sure will be a good time to be a PMem software engineer. ®