This article is more than 1 year old
Apple solemnly agrees to pay France $570m in back taxes, turns to camera, gives us a wink
Think we may just get away with this one, eh mes amies?
Apple has agreed to pay France an estimated €500m ($570m, £440m) in back taxes following several years of protests – and a decision by the French government to pass a new tax aimed at US tech giants.
"As a multinational company, Apple is regularly audited by fiscal authorities around the world," the company's French subsidiary said in a statement today. "The French tax administration recently concluded a multi-year audit on the company's French accounts, and those details will be published in our public accounts."
Although the exact figure has not been announced, it is expected to be a half-billion euros. The back taxes are as a result of a tax loophole that has been exploited by American tech giants, including Apple, Google, and Facebook, where all the profits banked from customers in countries across Europe are funneled through their European headquarters in Ireland, where the Irish government has struck controversial low-tax deals. Other Euro nations feel cheated by this transfer of dosh, as they can't tax the moolah made within their borders.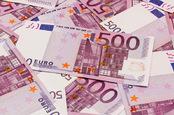 Europe plans special tax for Google, Apple, Facebook, Amazon
READ MORE
The arrangement thus caused consternation in European capitals, and France led a pan-European effort to pass new tax laws that would force American tech giants to pay taxes in the countries where they make their sales. Back in 2016, the European Union estimated that Apple alone has used its Irish arrangement to avoid €13bn in taxes and interest.
France is particularly exercised about the issue, having lost a €1.12bn tax battle with Google in 2017 after a Parisian court ruled that Google's presence in France wasn't large enough for Paris to extract Euros from the iGiant.
The new European tech tax initially had a lot of momentum. Governments first proposed taxing the US giants on revenue rather than profits – a radical change designed to limit the options for tax avoidance. And then pushed the issue strongly.
Shift-alt-delete?
But following a meeting of European finance ministers, the plan shifted to taxing tech giants on their online ads as a way to making sure they coughed up the cash, though that didn't create a potentially dangerous precedent on taxing revenue.
Meanwhile, activists started protesting outside Apple stores insisting that the company pay over its fair share of tax, and claimed that its failure to pay was hurting French citizens. The protests went on for months.
By March 2018, the French government had managed to drag people closer to its original plan and tax Apple and friends based on their turnover. Its latest idea was a three per cent levy on firms with global annual turnover of €750m and annual EU revenue of at least €50m: parameters designed to encircle American tech giants without disrupting the traditional tax structure.
But when France tried to get formal approval for the plan in the EU, it was blocked by – surprise, surprise – Ireland. Ireland also enlisted Sweden and Denmark, and the tax plans stalled.
France refused to be beaten, and announced in December that it was going to introduce its own tech tax anyway that would come into effect on the first day of 2019 i.e. last month. Finance minister Bruno Le Maire said the tax – which would cover advertising revenues, platforms and the resale of personal data – would raise €500m in its first year. Which, presumably, is where the €500m figure for Apple's settlement has come from.
Pay now or pay later
At that point, Apple (fiscal 2018 profit: $60bn) clearly decided that the writing was in the wall, and it should cut a deal with the French authorities. If the final figure does turn out to be the pocket-change-grade €500m, it would be significantly less than what Apple could expect to pay if it was subjected to the current proposed tax backdated ten years. Having said that, as both the French government and Apple are all too aware, money in the hand is worth much more than theoretical money at some point in future.
France says it is still hoping Europe will pass a single new tech tax law to cover the whole continent but in the meantime, it has a half-billion euros to show for its effort. ®