This article is more than 1 year old
What matters most to open-source chat plat Mattermost? To shove this fresh $20m into security, privacy
Slack: Cute Series A. Check out our proposed public listing...
Slack-for-engineers Mattermost has said it plans to plough its $20m Series-A funding into privacy and security.
Mattermost is open source and, its CEO Ian Tien told The Register, is "by developers for developers" – words that usually strike fear into the heart of UI designers.
However, the messaging platform has proved popular with engineering teams, enamored by access to the code as well as the many, many add-ons published. A quick look at GitHub shows more than a thousand in various stages of development.
The platform has found fans ranging from Uber to the US Department of Defense (DoD), with access to the code as well as the option of self-hosting reassuring to those worried about their messages sitting on the servers of the competition.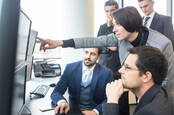 Productivity knocks: I've got 99 Slacks, but my work's not done
READ MORE
Tien told El Reg that the attraction of Mattermost was portability, privacy and "to know exactly what it's doing" with data. Such is the joy of open source and why many engineers like the thing.
Office 365 users and their ilk? Not so much. Mattermost, according to Tien, is "really focused on developer use cases".
But let's face it – developers working in an Office 365 shop will find it difficult to persuade higher-ups to drop Teams in favour of an alternative unless that privacy argument becomes irresistible.
That developer focus is reflected in how Mattermost intends to spend the funds, led by Redpoint Ventures. In a thinly veiled swipe at Slack, Tien pointed out to us that with $20m to play with, his outfit had quadrupled what the hipster chat platform managed for its Series A back in 2010.
Slack, of course, would simply give a polite cough and point to its proposed public listing along with the more than $1bn it has hoovered up from investors since those first few rounds.
How do you spend $20m?
First up, as far as Tien is concerned, is to double-down on why enterprises opt for the platform, with the company intent on "extending our lead in high-trust, so there's a lot of custom security, privacy and compliance requirements" and continuing "where we're really strong, in that high-trust world".
Secondly, the gang wants to "empower our community". Mattermost is dependent on those GitHub integrations, with connectors for Jira, GitLab and GitHub proving popular. If a user wants to enjoy the video or audio conferencing that users of its competitors take for granted, then a third-party add-on is needed. So keeping that community up and running is key.
Finally, the team wants to get on the road: "Getting to more open-source events where we can educate people on best practices to leverage our APIs." And, of course, there is the whole marketing thing as Tien looks to snap up users left in the wilderness after the demise competing platforms like "Hipchat server, that Atlassian shut down – there are a lot of those customers out there that have their collaborations hosted and they don't know about us".
As has become the norm in the open-source world, the company's largesse only goes so far. Yes, the core platform is MIT licensed, but Mattermost would really like users to spank some cash for the likes of Enterprise functions such as Active Directory or LDAP single sign-on.
Even with $20m in its pocket, the company assured us that the strategy of letting devs nose around in its code would not be changing any time soon. ®