This article is more than 1 year old
Google's cash problem: There's just so much of it
How many people are on your cloud platform again? It earns how much? Oh right, you're not saying
Analysis So much for the "Big Tech backlash". The "surveillance" model of data slurping used by behavioural ad giants Google and Facebook has never been under such focus as it is today. And they've never made as much money.
Last week Facebook, and this week Google reported almost obscene numbers.
Google's main problem is spending its dough. Revenues for the quarter ended 31 December came within a whisker of $40bn – up a fifth annually. The ad giant now has almost 100,000 staff, over 4,000 of whom were recruited in the quarter.
So $12bn gets flung out of the company to shareholders for the quarter. Spending increases on the largely basketcase "Other Bets" – the so-called "moonshots" that seem to miss the Moon completely, or just crash and burn on the launchpad. These "Other Bets" yielded just $154m for the quarter in revenue – yes, more than the $131m of Q4 2017, but a fraction of the overall tsunami of cash. R&D investment also accelerated.
Cloud revenue? Can't say
Advertising is so core to Google, it has been strangely ambivalent about its non-advertising businesses, even when these are substantial.
Remember how Apple took some well-deserved flak for removing iPhone unit sales from its earnings last year? A hardware product company should indicate how many hardware products it moves.
Well, Google is a cloud platform that doesn't say how many people are on the platform, or how much the platform earns: it discloses even less than Amazon and Microsoft. Plenty of analysts on the earnings call asked about cloud revenue, but none got an answer.
"Cloud does continue to deliver sizeable revenue growth," said Alphabet CFO Ruth Porat. It's "one of the fastest-growing businesses across Alphabet" was as much as we got.
Google-watchers want to know how the cloud platform is doing because at some point every enterprise that wants to be in the cloud actually will be, and the Big Three can gently start to extract monopoly rents. If Google is third, it's in a weaker position to do that. Unless it can cross-subsidise from the core advertising business.
So how's that doing? Here the picture was almost as opaque.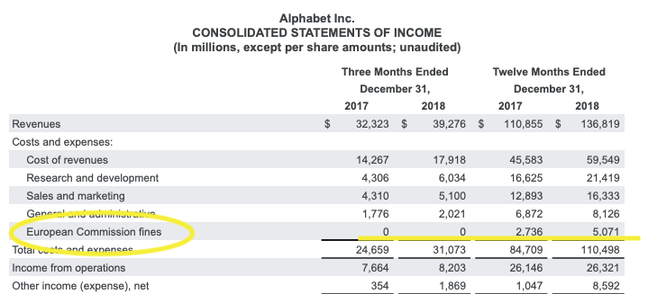 Shopping Actions is Google's big hope. Traditionally, Google as a search company has bounced consumer interest off onto a merchant. With Actions, it inserts itself into the transaction, typically by completing the purchase itself. This is how Google hopes to compete with Amazon.
Information here was scant – giving the impression that this is at the experimental phase – even though similar long experiments preceded its 2016 launch.
Both Facebook and Google are keen on what they call "closing the loop" – tying identifiable personal data histories such as credit records to your digital exhaust such as YouTube history, or current location (helpfully beamed back to the Mothership from your Android phone).
Surely with all that data under Google and Facebook's control, the internet should never show you ads for products you bought weeks ago. But it still does. ®
Bootnote
We did learn, however, that Google now bundles content within ads – a big change from when ads were injected into the content. "Viewers who watch the trailer for LEGO Movie 2 on Black Friday were served the franchise's original film for free within the Ad," CEO Sundar Pichai told us.