London cops' use of facial recognition tech last week resulted in only one person being charged, while another was handed a £90 on-the-spot fine after trying to avoid the cams.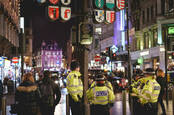 Zero arrests, 2 correct matches, no criminals: London cops' facial recog tech slammed
READ MORE
The Metropolitan Police is in the midst of what it is calling a trial of automated facial recognition (AFR) technology, although it has been using the kit since 2016.
Last week it used the kit in Romford, Essex, parking a van outside the station between 10am and 6pm. The cameras scan the faces of passersby and checks them against a watch list that is supposed to be freshly drawn up for each deployment.
Forces have argued the public expects them to use emerging tech to improve policing, but critics railed against the fact it is being tested in live environments without a legal framework and in the face of evidence it has a 98 per cent false positive rate.
And it seems unlikely that last week's deployment has shifted that rate very much, with it leading to just three arrests, of which only one resulted in the person being charged.
That man, Scott Russell, was arrested on suspicion of breach of a molestation order and then charged and sentenced to 11 weeks' imprisonment.
Meanwhile, the Met said a 15-year-old boy had been arrested on suspicion of robbery, but then "assessed as no longer wanted for the offence and released with no further action". The Met didn't comment when asked if this person should have been included on the watch-list in the first place.
A third man, aged 28, was arrested on suspicion of false imprisonment and kidnapping but was also released with no further action.
Despite the fact only one of the three was charged, the Met's Ivan Balhatchet said in a statement that the "use of the equipment at Romford Town Centre resulted in several arrests for violent offences".
A press release also set out five other arrests that took place during the deployment, but a Met spokesperson confirmed that these were not a direct result of AFR, but "proactive arrests as part of the wider operation".
Three of these have been released "under investigation", while the remaining two – arrested on suspicion of drug possession – were dealt with via a community resolution.
Perhaps more controversially, the Met also handed a man a £90 penalty during the deployment. Civil rights group Big Brother Watch tweeted from the scene that he had been approached by police after covering his face to avoid being caught on camera, after which he "got annoyed" and was handed the fine.
A man was just stopped by police for pulling his jacket over his face.

He protested that there was no reason to be stopped as he was surrounded by police + when he got annoyed he was fined £90 for a supposed public order offence.

What kind of oppressive police action is this? pic.twitter.com/qOTISwTcX2

— Big Brother Watch (@bbw1984) January 31, 2019
The Met's account of the event was that the man "was seen acting suspiciously" and "became aggressive and made threats" to officers after they stopped him. "He was issued with a penalty notice for disorder as a result."
Last week's deployment was due to be the final one before a full analysis, but snow meant that the second day had to be rescheduled because footfall would be lower than is required by the tests.
The Met has yet to provide details of where and when this will be – info about the Romford trial was only released at 4pm the day before.
Meanwhile, rights group Liberty today announced that the Cardiff Administrative Court had granted it granted permission to proceed with its legal challenge against South Wales Police's use of AFR. ®