This article is more than 1 year old
UK transport's 'ludicrous' robocar code may 'put lives at risk'
It's all voluntary, the human overseer could be miles away. What could go wrong?
Experts have said the UK's guidelines for testing self-driving cars, published today by the Department for Transport, could put lives at risk.
The new draft code (PDF) intends to bring trials to public roads in the UK.
But unlike in California, the code does not introduce any mandatory requirements for the testing of potentially lethal autonomous vehicles ( AV)on the UK's public streets. The obligation to inform the authorities of a trial and incidents is advisory*.
That could cost lives here, author and transport expert Christian Wolmar told us.
"Of course it should be mandatory – we should know how often a human intervenes," he said. "With Waymo they intervene almost all the time."
In Uber's Pittsburgh trial of more than 40 AVs, a human had to intervene on average every 0.8 miles (1.3km).
"Testing on British roads is much more difficult," Wolmar added. "The reason [some of the] AV tests have been in Arizona is because of the weather. Snow, heavy rain, fog all make autonomous driving much more difficult, as do potholes, and the lack of a grid system.
"Potholes are a real disaster – the AV can't spot them."
Ken Tindell, CTO of Canis Automotive Labs, which develops security systems for cars, told us he was astonished by the absence of minimum requirements.
"They don't even mandate adherence to recognise safety-critical software standards such as ISO 26262," he said.
The government has funded a giant sim – handing out a £12.1m research pot to six firms (PDF) in July last year – but this is no guarantee of safety.
"They anticipate that the safety assessment will be purely one of testing, with reliance on simulation. Which as we know is necessary but a long way from sufficient. A proper safety case would highlight this, but since a proper safety case isn't mandatory..." Tindell shrugged.
Drone blast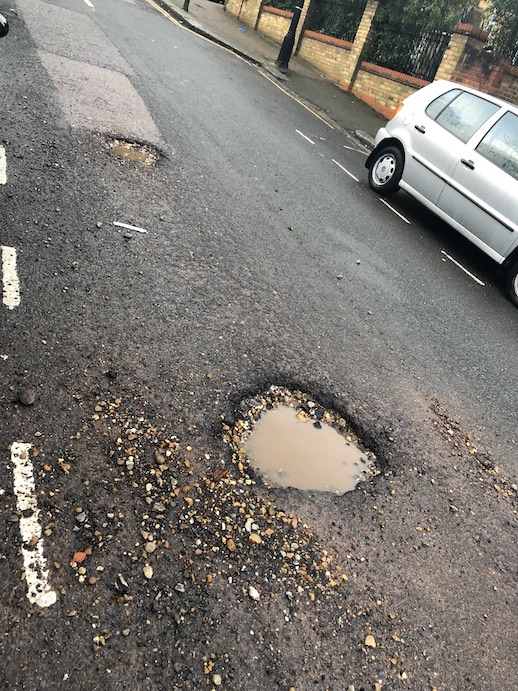 Impressive post "snowmageddon" potholes in your reporter's north London street today. AVs find them particularly hard to spot
Surprisingly, although AV trials require human oversight, because the technology is immature, the DfT will allow this to be performed remotely (see page 19 of the PDF), as with drones. As long as a remote operator (somewhere) can grab the controls, you're good to go.
"Trialling organisations should consider the use of more than one safety driver or operator ready and willing to take control of the vehicle to provide as a high a level [sic] of safety as possible," the draft code advised.
"The entire purpose of a safety driver is as a backstop for catastrophic technology failure," said Tindell.
"I'm particularly unimpressed by 'a version' of the safety case being something the public should see. I can't see why these aren't legally required documents, and open for peer review by engineers and academics. The public are expected to submit to their lives [being] put at risk in experiments and in return the least the experimenters could do is explain in detail why they believe that risk to be low – so that independent assessment could be made."
PR skills needed. Why?
Ominously, the government has advised prospective robocar triallists to brush up on their PR – as it might come in handy.
"Trialling organisations should develop a public relations and communications strategy," the code burbles. "This can have many benefits, such as mitigating risks and potential issues that may arise during public trials."
Such as?
"Consider how to provide special consideration for more vulnerable road users including those with reduced mobility, those with visual or hearing impairments, pedestrians, cyclists, motorcyclists, children and horse riders; and respond proactively to any incidents which may occur during a trial."
Triallists are also advised to "educate the public" on the self-steering hunks of steel on wheels.
The DfT reckoned the document "sends a signal" – an approach that Wolmar, a prominent critic of AVs, said he believed was irresponsible. The bureaucrats' enthusiasm has overcome their responsibilities, he said.
"It's ludicrous. They're trying to pretend this technology is a) ready and b) desirable. That may well put lives at risk: they're so eager to show we're open to this, they'll allow cars onto the roads before they should." ®
Bootnote
*This means it is not mandatory. "It does not introduce any new legal requirements or barriers. This update provides greater clarity on the Government's expectations for responsible trials of automated vehicle trials and services," the document stated.
Regulation may yet come: the Law Commission has been given a three-year job to identify and recommend reform. For now, the DfT politely requested that AV triallists inform the authorities and hand over incident data.