This article is more than 1 year old
National Enquirer's big Pecker tried to shaft me – and I wouldn't give him an inch, says Jeff Bezos after dick pic leak threat
David Pecker picked a pic of billionaire's pickled pecker
Amazon CEO Jeff Bezos today published an extraordinary open letter claiming National Enquirer publisher American Media Inc (AMI) is trying to blackmail him by threatening to leak purloined pics of the billionaire's "semi-erect manhood."
In effect, the zillionaire tech baron has shot back, publicly revealing descriptions of his meat and two veg so as to take the sting out the alleged extortion. It's somewhat hard to intimidate someone who has a $140bn-ish fortune.
Last month the Enquirer published a story detailing how the cloud titan's top boss was ending his 25-year marriage after falling for ex-telly-anchor-turned-helicopter-pilot Lauren Sanchez. Bezos confirmed his separation from novelist wife MacKenzie was an amicable split-up, though the situation was obviously highly embarrassing, particularly in light of the painfully awkward sex texts Bezos sent to his new partner and leaked by the gossip mag.
In Thursday's letter on Medium, Bezos said that he had asked an associate and investigator, Gavin de Becker, to probe the sources of the tabloid's exclusive, and to find out if AMI, and its CEO David Pecker, were using the Enquirer to kill unflattering news stories about President Trump, and flatter senior Saudis in the hope of getting funding for future ventures.
"Several days ago, an AMI leader advised us that Mr Pecker is 'apoplectic' about our investigation," wrote Bezos. "For reasons still to be better understood, the Saudi angle seems to hit a particularly sensitive nerve.
"A few days after hearing about Mr Pecker's apoplexy, we were approached, verbally at first, with an offer. They said they had more of my text messages and photos that they would publish if we didn't stop our investigation."
He then lists the nine "intimate" photos that the AMI representatives claimed they had. These include images of Bezos "wearing either tight black cargo pants or shorts — and his semi-erect manhood is penetrating the zipper of said garment," one of the billionaire in his bathroom "wearing nothing but a white towel — and the top of his pubic region can be seen," and another with new squeeze Sanchez "smoking a cigar in what appears to be a simulated oral sex scene," although, as Freud may have said, sometimes a cigar is just a cigar.
Bring it on, loser
Bezos published an email from Jon Fine, AIM's Deputy General Counsel, promising that the purloined pics would never see the light of day if Bezos dropped his investigation, stated publicly that AMI was without fault, and kept the deal totally secret. If the Amazon big cheese didn't comply, then AMI would publish the below-the-belt selfies, Fine states.
"Well, that got my attention. But not in the way they likely hoped," said Bezos of the below-the-belt threat. "Any personal embarrassment AMI could cause me takes a back seat because there's a much more important matter involved here. If in my position I can't stand up to this kind of extortion, how many people can?"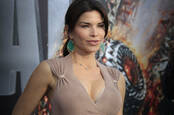 Amazon Mime: We train (badly) an AI love bot using divorce bombshell Bezos' alleged sexts to his new girlfriend
READ MORE
Bezos – who owns the Washington Post, which has been critical of Enquirer favorite Trump – points out that not even real journalists would stoop so low. He also states the obvious caveat to all this: even if he did acquiesce, the Enquirer would still have the blackmail material. So instead he's going balls out, taking a hard stance, and all that. Stiff upper... something.
It's a gutsy strategy, but if anyone can make it stick, it's one of the richest men in the world who runs one of the planet's most successful and profitable companies and really doesn't have anything to fear. He runs the risk of having some mildly embarrassing photos published, although doing so now would confirm AMI's underhand tactics and the shock value will have been lost.
And it's a strategy that's probably going to work: it has in the past. In 1992 in the UK, Liberal Democrat MP Paddy Ashdown had details of a brief affair with his secretary stolen from his medical records. Rather than go grovelling to the newspaper threatening to publish them, he held a press conference with his wife by his side saying it had been a brief and foolish mistake, his wife had forgiven him, and that was the end of it. He, and his party, emerged more popular than before. Well, as popular as the Lib Dems can be.
Bezos doesn't need to worry about popularity, and it's unlikely he gives that much of a toss about who sees his candid pictures. But what's clear from the open letter is that he is furious, and won't stop trying to get to the bottom of this. Pecker may have bitten off more than he can chew.
We'll let you know if AMI gets back to us with any comment. ®
PS: Woody Allen is this week trying to sue Amazon for $68m after the web titan dropped his film deal over "a 25-year-old, baseless allegation."