National Enquirer publisher American Media Inc (AMI) today denied it blackmailed Amazon head honcho Jeff Bezos by threatening to leak his nude selfies if he didn't play ball.
Bezos caused a major stir on Thursday after he published online emails that appeared to show AMI executives threatening to print highly embarrassing photographs of the tech billionaire unless his investigation into the publishing company's close ties with President Trump's team, and links with Saudi Arabia, was dropped.
In a statement sent to The Register on Friday, AMI said it felt it had done nothing wrong, but would at least do some internal investigation in light of Bezos' revelations.
"American Media believes fervently that it acted lawfully in the reporting of the story of Mr Bezos. Further, at the time of the recent allegations made by Mr Bezos, it was in good faith negotiations to resolve all matters with him," Jon Hammond, of crisis management PR firm Hammond Strategies LLC, told us.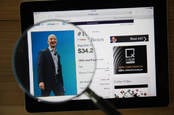 National Enquirer's big Pecker tried to shaft me – but I wouldn't give him an inch, says Jeff Bezos after dick pic leak threat
READ MORE
"Nonetheless, in light of the nature of the allegations published by Mr. Bezos, the Board has convened and determined that it should promptly and thoroughly investigate the claims. Upon completion of that investigation, the Board will take whatever appropriate action is necessary."
In other words, the publishing corp's senior management will probe themselves to determine if any of its staff behaved incorrectly. The statement was notable in not denying Bezos' claims directly nor casting doubt on the veracity of the emails published yesterday – particularly that the Enquirer is in possession of the cloud computing titan's intimate below-the-belt snaps.
Certainly calling in a crisis management firm is a good idea. AMI has just picked a fight with the world's richest man – a man so confident and powerful he is virtually embarrassment-proof – and at the worst possible time. In December, AMI big cheese David Pecker was apparently granted legal immunity in exchange for helping American prosecutors send down Trump lawyer Michael Cohen, who admitted funneling hush money to two women who claimed they had affairs with Donald.
Bezos' letter on Medium has reportedly come to the attention of the architects of that deal within the Dept of Justice, and could invalidate that immunity offer. Given that AMI has already admitted, under immunity, it effectively gave $150,000 hush money to a woman who accused Trump of cheating on his wife with her, the loss of any immunity could be catastrophic.
As for the source of the Bezos sexts, there's no firm word about how the images ended up in the National Enquirer's hands. On Thursday, a journalist at the Bezos-owned Washington Post said that the billionaire's private investigator, Gavin de Becker, believes the private selfies may have been leaked to the Enquirer for political reasons – Bezos has clashed with Trump via Amazon and the Washington Post – after being possibly purloined by a certain "government entity."
Washington Posts @RoigFranzia says Bezos' team thinks it's possible that the text leaks were politically motivated and that a "government entity" accessed the Bezos texts and hoo boy that's certainly something pic.twitter.com/MQuzNFbCed

— Andrew Lawrence (@ndrew_lawrence) February 8, 2019
It's a lot of ifs, potentials, and possibles at the moment. The actual explanation on how the raunchy pics leaked may be far more obvious and prosaic. ®
PS: Yes, of course the National Enquirer is hosted by Amazon Web Services...