'Now is the winter of our disk contents'... Decision on Lauri Love's seized gear due next week
Accused hacker can write Reg headlines. Who knew?
Lauri Love will find out whether he is getting his computers back from the National Crime Agency on 19 February, a judge ruled today.
As reported earlier, Love wants the return of two laptops, two desktop tower PCs, an SD card, an external hard drive and one of the laptops' hard drives, which were seized from his family home in Stradishall, Suffolk, when he was arrested in October 2013. Some of the computers were encrypted.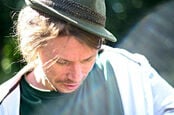 Accused hacker Lauri Love tries to retrieve Fujitsu lappie and other gear from Britain's FBI in court
READ MORE
Today's hearing continued Love's earlier attempts to get the computers and accessories returned. The NCA previously tried to force him to decrypt the machines as the price for getting them back; in 2016 District Judge Nina Tempia, sitting in Westminster Magistrates' Court, refused permission for the NCA to do this. Since that hearing, no progress was made until today – the 19th time this application has come in front of the magistrates' court.
After Love successfully fought off a 2018 US extradition attempt – which alleged that he hacked a number of government agencies including the FBI, NASA and the Department of Energy – he had another go at getting his computers back, which was heard today. The NCA confirmed that Love is still under criminal investigation.
In his written skeleton argument submitted to the court, Love opened with: "Now is the winter of our disk contents made glorious by the summer sun of law..."
He continued: "The NCA was under the strict obligation, not only to not initially remove any articles of property from the premises where a photograph or copy would suffice for the purposes of an investigation, but after removal of property to return originals as soon as practicable to the persons from whom they were seized... these obligations were and remain unfulfilled."
Love also argued that the court had no power to "order any acts of destruction, modification or tampering with property removed by executive agents, which would constitute vandalism".
Exhorting District Judge Margot Coleman to ignore the NCA's arguments, Love said in his written legal arguments that he has "no relevant criminal record, nor history of offending, [and] has undertaken no actions during the course of the NCA investigation or since its effective closure in July 2014 to suggest that he will commit criminal offences".
Reserving her judgment, District Judge Coleman said: "I am not going to give a decision today. I will reflect on this and take time to prepare a written decision [to be handed down] on 19th February" at Westminster Magistrates' Court.
The judge also clarified an earlier reporting restriction order she made, allowing reporters at the hearing to quote from parts of Love's skeleton argument.
The National Crime Agency was represented by barrister Andrew Bird. ®