This article is more than 1 year old
The UK's Cairncross Review calls for Google, Facebook to be regulated – and life support for journalism
An Arts Council for news?
A UK government-backed review has decided against a punitive tax on Google and Facebook – but called for competition authorities to investigate their core business. It also wants a new news quango.
The review – chaired by Dame Frances Cairncross, a former senior ed at The Economist – was set up to investigate the viability of the news market, the role of search engines and social media, and the digital ad biz ("fake news" was beyond its remit). The report, published today, has come up with largely bland (but implementable) recommendations (PDF).
Several countries have considered a tax to fund journalism, particularly local journalism, and France imposed a levy on the tech giants from 1 January. The review, however, demurred.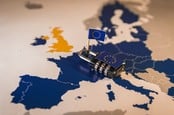 GDPR stands for Google Doing Positively, Regardless. Webpage trackers down in Europe – except Big G's
READ MORE
Instead it has asked for the Competition and Markets Authority to probe whether Facebook and Google have too much power and harm consumers. The duopoly accounts for a large proportion of ad spending (84 per cent of all spending outside China), and almost all new ad spending. The General Data Protection Regulation (GDPR) has actually cemented Google's position, a study has found.
The review recommended that the Competition and Markets Authority uses its information-gathering powers to conduct a market study into the online advertising industry.
"By looking more closely into the position of different players, their roles, costs and profitability, the CMA will be able to identify how efficiently the online advertising market is working, and what remedies, if any, are needed," it said.
Google and Facebook's handling of news should be formally scrutinised by a regulator "with powers to insist on compliance". And a new quango – the "Institute for Public Interest News" – will be set up to divert funds to worthy news projects.
The fund "should focus on innovation that will not just benefit the recipient, but be sufficiently generous and well-managed to make an industry-wide difference".
"The Institute might become a rough equivalent to the Arts Council, channelling a combination of public and private finance into those parts of the industry it deemed most worthy of support," the review mused.
The UK's public service broadcaster, the BBC, came under fire from commercial rivals for publishing "soft news", such as features about ITV reality show Love Island. The Beeb responded that someone drawn to a page for Love Island would stay for the hard-hitting, public-interest journalism. A bold argument, we reckon. ®