This article is more than 1 year old
Former DXC Technology veep accuses 'toxic' CEO Lawrie of bullying staff in lawsuit
Steve Hilton claims his boss fired him without just cause to avoid $20m severance payday
A former DXC Technology exec veep sacked last summer refuses to go quietly: Steve Hilton has accused his ex-boss, CEO Mike Lawrie, of having a "toxic" management style that he claimed involved "verbally abusing" underlings.
These are among a series of allegations made by Hilton, one-time head of DXC's frontline techies working for the Global Delivery Office (GDO), in a lawsuit filed at the US District Court in the Southern District of New York. At DXC, he initially ran a global team of 120,000 permanent staff and 60,000 contractors, and was responsible for $14bn of company assets across 6,000 clients in 70 countries.
Hilton is suing DXC for a $14.3m breach of contract alleging that Lawrie fired him – as The Reg exclusively revealed in July – "without cause" and also claiming his boss directed a change in the vesting dates for Hilton's share grants to avoid paying out $20m in severance.
"It is a familiar story: Having gotten the work it wanted from him, an employer refuses to pay an employee what he was promised," the exec veep's complaint (PDF) alleged.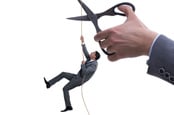 DXC axes Americas boss amid latest deck chair musical
READ MORE
On his termination, "Hilton was not paid what CSC and DXC promised. Hilton was paid none of the benefits promised under his Severance Agreement, and all of his outstanding Restricted Stock Unit and Stock Options cancelled," the lawsuit stated.
The legal document added that some of the stock grants cancelled "offer clear proof" that the CEO and the business were "acting in bad faith in the termination of Hilton".
"Lawrie had decided to characterize Hilton's termination as for 'Cause', and had decided to cause Hilton's stock vesting dates to be postponed, because Lawrie knew DXC owed Hilton in excess of $20m in compensation," it added.
The sacked staffer's legal team further alleged that "Lawrie hoped to force Hilton to 'leave money on the table' when Hilton left DXC – just as Lawrie boasted he has done with Hilton's predecessor."
So how did Hilton, who was being lined up to succeed his boss as CEO in the "event of Lawrie's death or departure" – at least according to the lawsuit – find himself taking the company to court?
What caused the lawsuit?
The story starts more than four years ago when Hilton left his role as CIO of IT infrastructure at Credit Suisse to become the boss of CSC's Global Infrastructure Services (GIS) division. He was wooed by Lawrie and his chief of staff Joanne Mason.
Right from their first meeting, Hilton claimed via the lawsuit, he noted "an important feature of Lawrie's personality: his inability to draw the line between the personal and the professional".
The example he highlighted was when Lawrie had been trying to hire Hilton and the pair dined together in December 2014 along with Mason.
"The dinner was pleasant, though it had one peculiar moment. Lawrie ordered a steak, but then Lawrie let his subordinate, Ms Mason, divide up the meat for him. She took the plate from her boss and, using her boss's steak knife, split the pre-carved meat onto a plate for him and for herself, then split the side dish, and then gave the plate back to her boss," the filing stated.
Any lingering doubts about taking the $650,000-a-year position at CSC obviously melted away, and Hilton signed a contract early the following year to run GIS, a $4bn sales operation that employed 15,000 people. He was made aware from the outset that CSC was "contemplating a sale, merger or other change of control" – ultimately he'd help steer CSC to a merger with HPE's ailing Enterprise Services wing.
Hilton claimed via the lawsuit that when he took over GIS, the division was "missing its internal budget by several hundred million dollars a year", and claimed it became apparent that "Lawrie's internal budgets were largely aspirational". Hilton missed GIS targets for the first two years but claims Lawrie praised him.
Then things started to turn a little sour, at least for the former CSC and DXC-er, when it "also became evident to Hilton, by the summer of 2015, that Lawrie's management style was in some respects toxic". He saw the CEO "verbally abuse his subordinates" and "make business decisions not based upon metrics and performance, but based on Lawrie's sense of whether an employee was sufficiently loyal or subservient".
The lawsuit also alleged that Lawrie had established a "pattern of terminating subordinates shortly before their stock grants would vest, finding various ways to avoid paying out compensation that was owed. Lawrie gloated, for example, about how much money (in the form of unvested stock) Steve Hilton's predecessor 'left on the table' when CSC fired him."
Negotiations between CSC and HPE ES began from May 2016 and by April 2017 DXC was born. In recognition of the "sacrifices" Hilton made during these discussions, he was given tens of thousands of restricted stock units.
Lawrie, who ran CSC, was then made CEO at DXC and chief of staff Mason added HR boss to her list of responsibilities. The pair, the suit alleged, had relied on outside consultants – $40m was paid to McKinsey, for example – to guide the new corporate structure.
The CEO wanted to create a three-divisional structure, as came to pass, and he slotted Hilton into place at the top of GDO, taking control of three-quarters of the company's employees, the feet-on-the-street techies that fix stuff.
It might be worth noting that the heads for each of those three divisions – Build, Sell and Deliver – all went within 15 months of DXC being incorporated.
Former veep's complaint: He 'repeatedly advised Lawrie... about the pace of cuts'
During the merger talks, Mason employed McKinsey to run through the "many iterations" of the org chart and plans for staff.
"Hilton felt the process she ran was chaotic and non-collaborative and that many of the decisions were sub-optimal for the future success of DXC," the suit stated.
Hilton voiced these concerns to McKinsey and suspected this was "relayed to Mason". He subsequently noted a "sharp deterioration" in his relationship with the chief of staff, which went from occasional out-of-work socialising to her "barely" engaging him after the merger.
"Mason took it personally," the suit claimed, and "shared her distaste for Hilton with Lawrie, with whom she continued to share a close and dependent relationship." The suit added that Lawrie's "treatment of his subordinates" deteriorated due to the strain of the merger and its aftermath.
"DXC executives who had come from Hewlett Packard were often taken aback by the conduct of their new CEO. Several such executives approached Hilton separately for advice about how to handle Lawrie and Mason, whom they quickly came to see was very close to Lawrie."
Hilton, the suit claimed, was a "calm, compassionate and honest" exec and talked to these peers, passing "advice about how to handle Lawrie and Mason". And he was, it added, "candid about Lawrie's strengths and weaknesses as a leader". These talks were held in one-to-one settings to in small groups, and were "professional in tone".
"In other words, they were run-of-the-mill interactions that occur daily in every large organisation as coworkers navigate their workplace relationships."
However, Hilton's suit claimed he "soon" found himself the "target of Lawrie's particular brand of bullying". Lawrie had heard that Hilton had spoken to McKinsey, another management consultant and former HP execs, and over dinner – their final one together in early 2017 – "wanted to test Hilton's loyalty to him personally – again, because for Lawrie, personal feelings take precedence over appropriate professional conduct".
Lawrie told Hilton, it is alleged, that CSC staff stock vested due to the merger only on Lawrie's say-so, "not because there had been a change in control event", i.e. not as terms of the stock vesting and DXC's severance plan both stated.
The suit continued: "Hilton was taken aback by Laurie's brazen lie. But Hilton saw it for what it was. Lawrie was testing Hilton's loyalty, testing whether Hilton could be bullied, whether Hilton would stand up for his own interests (stock grants and severance rights) in the face of his boss's lie.
"Lawrie was also threatening Hilton, saying that as Hilton's boss he would not be constrained by contract, that he would order DXC to deprive Hilton of his rights to pay and severance if and when it suited him."
Cost-cutting
According to the suit, one thing Lawrie and Hilton agreed was that GDO's expenses – given the size of the team – needed reducing. "These cuts would need to be accomplished without causing any significant loss to the quality of the service that Global Delivery provided," the lawsuit revealed.
The complaint said the pair agreed to try to find $2.7bn in savings, "including through major workforce reductions". But Hilton said he "knew there would be no way" to slash $2.7bn in expenses in year one, that it takes time to fire staff and for the savings to show up once the people are out, the lawsuit stated. Not to mention the impact this would have on service delivery and customer satisfaction.
Nevertheless, Lawrie's "internal budget targets" necessitated a drop in year-on-year overheads of $2.7bn and to meet this, GDO would "have to fire far more people far more quickly, with the resulting negative impact on customer satisfaction".
The suit claimed that Hilton "repeatedly advised" the big boss about his "reservations concerning the pace of cuts" and Lawrie acknowledged his huge expenses purge target was "merely aspirational and a tool to reduce internal debate".
DXC ended up cutting out more than $1bn in expenses in year one and was rewarded by Wall Street.
In the first year of DXC's life, GDO headcount was cut by 20 per cent, and total expenses fell by $1bn including workforce slashing, real estate consolidation, and other levers.
Hilton launched Bionic, DXC's effort to automate IT service delivery, which the lawsuit said allowed DXC to "reduce its workforce by approximately 8,000 more in 2018, with total savings of $445m per year".
He also appeared at DXC Investor Day and at the Client Advisory Board so his profile was on the up externally.
As a result, the lawsuit claimed, "Lawrie believed Hilton was contemplating leaving DXC for opportunities elsewhere, a violation of the personal subservience and loyalty that Lawrie prized so highly". And so, the complaint went on to allege, Lawrie made clear by summer of 2017 that he "intended to force Hilton out".
The complaint claimed the CEO then started taking actions to "thwart" Hilton's "ability to excel". This included stopping one-to-one meetings; agreeing on staff cut targets and then, in the case of the UK, Ireland and northern Europe in autumn 2017, doubling them a fortnight later; eliminating all but four of Hilton's direct reports and consolidating the lion's share of GDO under Samson David, who previously reported to Hilton.
Lawrie was said to have "treated" David as the "new de facto head" of GDO, and David also refused to attend meetings called by Hilton, it was claimed.
"It was understood throughout DXC that, by January 2018, DXC was doing everything in its power to render its own executive vice president redundant.
"Hilton expressed his concerns about this reorganisation, and Lawrie shrugged them off, telling Hilton, 'You need to decide if you leave or stay'."
On 15 May, Lawrie handed Hilton a letter informing him of "material misconduct" and "a 'substantial and wilful failure' to render services, and that these constituted ground for termination". The lawsuit claimed that none of the issues raised were grounds or "Cause" for Hilton to be fired.
The reasons for the termination were said to have included a failure to meet the targets in Lawrie's budget for spending cuts within GDO; alleged problems in DXC's relationship with AWS; and insubordination and morale.
Hilton was given 60 days to "cure his supposed performance issues" – he denies that any of the allegations against him were performance-based – and was fired on 20 July. Hilton claimed via the suit that DXC made "no good faith effort to assist Hilton in curing his supposed performance issues".
The Register asked Richard Adamonis, DXC's veep of corporate comms, to comment, but have yet to hear from him 18 hours later. The company told US channel rag CRN the "allegations have no merit and we intend to vigorously defend this case". ®