This article is more than 1 year old
No fax given: Blighty's health service bods told to ban snail mail, too
Trusts to choose between secure email providers (not just Accenture's NHSmail)
The NHS, in England at least, will email patients directly rather than rely on snail mail, and organisations will be free to look beyond Accenture's NHSmail to send e-missives, under proposals from health secretary Matt Hancock.
"The rest of the world runs on email – and the NHS should too," Hancock said today at the NHS England conference.
He said the aim was for healthcare staff to contact patients with info about appointments or test results over email, rather than relying on post.
Hancock also emphasised that NHS organisations will be able to use any secure email provider – not just the health service's dedicated NHSmail, which is currently used by about 1.2 million staffers – if it meets security requirements.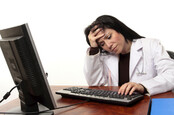 Accenture in doghouse after NHSmail mass outage cuts off 1m+ UK health staff
READ MORE
In what could be seen as the government throwing down the gauntlet to Accenture, which won a five-year, £60m contract for NHSmail in 2015, the government said this was "so that NHS organisations can choose the best service for their needs and email providers are encouraged to innovate".
The push for email is part of Hancock's "tech vision", which is central to the NHS's Long-Term Plan and its efforts to deal with ever tighter budgets by boosting its use of tech and ditching creaky kit.
In a speech at the NHS England conference today, Hancock said that having to deal with outdated technology is "hugely frustrating" for both staff and patients, and "in many cases downright dangerous".
"A letter lost in the post could be the difference between life and death," he said – which is perhaps a reference to various incidents where clinical correspondence went missing.
In 2017, the government was forced to admit that almost 900,000 items had gone missing due to an error by NHS Shared Business Services, while Capita was fingered for failing to forward more than 150,000 clinical docs.
There have also been two major incidents with NHSmail in the past few years. Most recently, a fault in two separate data centres took the system down across all platforms for most of a day in December.
In 2016, the system was crippled as a test email sent in error to about 850,000 staffers resulted in reply-all chaos that saw 500 million messages being sent in 75 minutes.
Hancock's plan also includes a set of open standards on interoperability that all digital services and IT systems will have to meet.
Those that don't will be phased out and the government plans to end contracts with providers "that do not understand these principles for the health and care sector".
Faxes are also in the firing line: NHS organisations were banned from buying any new machines from January this year and they will be totally phased out by 31 March 2020.
"We have signalled the end of archaic fax machines in hospitals and GP practices, and as of this year the NHS will no longer buy them," said Hancock.
"Our mission now is to make it as easy as possible for GPs to communicate safely and securely with their patients and colleagues." ®