Obit John Haynes, creator of the Haynes Manual and at least partly responsible for the skinned knuckles of enthusiastic amateur car repairers around the world, has tightened his last bolt and headed off to the great workshop in the sky aged 80.
Haynes passed away on 8 February after a short illness.
Born on 25 March 1938, John Harold Haynes moved to Sri Lanka (then Ceylon) with his parents, where his father was the manager of a tea plantation. After being introduced to motoring in the form of a Morris 8 saloon, the 12-year-old Haynes was sent to boarding school back in the UK with his brother David.
Haynes skipped rugby at school, and spent his time converting an Austin 7 into a lightweight "special" before selling the thing at a profit and producing a guide on how he did it.
After leaving school, Haynes joined the Royal Air Force (RAF) to do the National Service required by the UK at the time. He spent his spare time building and racing motor vehicles, one of which, the Elva Courier, can be seen in the Haynes International Motor Museum.
While in the RAF, Haynes met his future wife, Annette; the old romantic bought her a second-hand IBM typewriter as a wedding present. In 1965 he was posted to Aden in Yemen and, during a rebuild of an Austin Healey "Frogeye" Sprite, realised that the manuals produced by the manufacturers were not much help to the average enthusiast.
He bought a camera and documented the step-by-step process of the rebuild with photography and exploded diagrams that would become a hallmark of his eponymous manuals. The first Haynes Manual, for the Sprite, was published in 1966 and sold out rapidly. Other guides soon followed, and to date over 200 million Haynes Manuals have been sold around the world.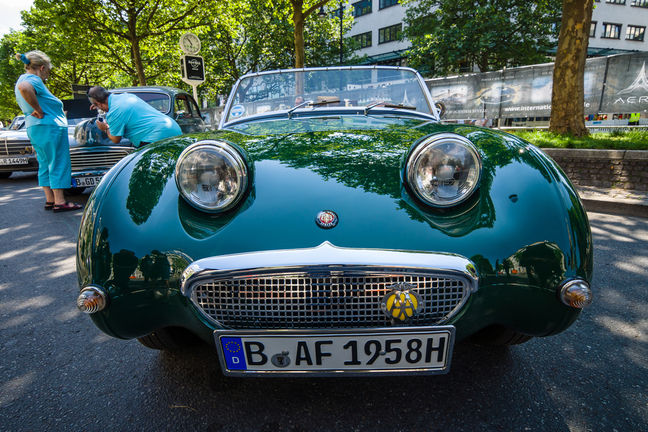 The aptly named 'Frog Eye' Austin-Healey Sprite (Mk I, 1959) at a classic car show in Berlin. (Not the one Haynes built.) Pic: Sergey Kohl/Shutterstock
Owners of cars of a certain age would inevitably find themselves possessed of one of Haynes' publications as they attempted to perform basic servicing or, perhaps, go a little further in their repair attempts. Indeed, this hack has fond memories of a disastrous attempt to change the slave cylinder of a 1972 Mini Clubman after religiously following the instructions before shearing off a bolt due to an over-exuberant bit of nut tightening.
And then there was the discovery that the rear anti-roll bar of my mk1 Golf bore no resemblance to the one in the photographs due to Volkswagen emptying the parts bin as the production run wound up.
Sometimes the diagrams also made things look all a bit too easy, leaving the enthusiastic amateur with a pile of oily parts and an exhortation to put it all back together by simply reversing the process.
The books were a greasy thumb-printed rite of passage into car ownership, and while some professional mechanics may have looked at them a little askance, for many the things were essential in the effort to stay mobile on a shoestring budget.
Sadly, the books also speak of a simpler time when maintaining a car did not require a computer and a degree in electrical engineering. As automobiles became more complex and less friendly to the amateur mechanic, the Haynes publishing group turned its attention to other topics, with publications explaining diverse subjects such pensioners, marriage and vegans in the trademark Haynes style.
Like any petrolhead with a few pounds in his pocket, Haynes enjoyed picking up interesting cars, founding the Haynes International Motor Museum in Sparkford, Somerset.
Starting with Haynes' collection of 30 cars, the museum now displays 400 vehicles. As for Haynes himself, he served as Chairman of the Haynes Publishing Group until 2010 before taking on the role of Founder Director.
Haynes was undoubtedly a pioneer in giving consumers the tools needed to maintain their vehicles as well as instilling an enthusiasm for stripping down and rebuilding recalcitrant machinery.
The Register had a chat with the gang at iFixit, an outfit noted for taking manufacturers to task for increasingly difficult-to-fix gadgets as well as publishing strip-downs and repair guides for modern electronics. CEO Kyle Wiens told us:
Haynes manuals have been a beacon of light in a dark world of increasingly locked down hardware. Their DIY guides have inspired generations of fixers to work on their vehicles. iFixit, and all of us in the repair community, stand on the shoulders of giants like John Haynes.
Reg reader Michael Hawkes got in touch to tell us: "Growing up in Colorado in the 1980s, they were a great help to me trying to figure out how to fix cars. For many Generation X geeks like myself, they helped instil a fascination with taking apart complex machines and putting them back together."
Haynes is survived by his wife, Annette, and two sons (his middle son passed away in 2016). ®