Samsung Galaxy's flagship leaks ... don't matter much. Here's why
Hole puncher, hole puncher... where's headphone jack? Leave out the notch, add hole for snap flash...
With Huawei breathing down its neck, Samsung had planned to unveil its flagship just ahead of Mobile World Congress, the firm's usual stage for its launch.
But leakers have spoiled the party.
After weeks of renders, the disclosure of what appears to be a detailed specification sheet has seemingly ensured every detail of the new product – barring the price – is out there.
Does it matter? Probably not, for two reasons.
Hole punch
Before we explore these, however: what's new? Firstly, from the official "teaser" videos, released in Vietnam, we can confirm the absence of a notch, an in-display fingerprint sensor, a 4K selfie camera, and reverse wireless charging.
From the many renders we can see, the design borrows from the slightly more "boxy" form factor of the Note. Although it is notch-less, the S10's display is nonetheless marred by a small onscreen hole, housing the front-facing camera. Both the cutout and the hole designs intrude on the active area of the display.
Samsung calls the hole "Infinity O"; it was one of four new OLED display types revealed at the Samsung developer conference late last year. The Korean chaebol will be hoping the hole will be less intrusive, rather as permanent onscreen station idents become invisible to the TV viewer.
Samsung #GalaxyS10 (Plus) seen charging the new Samsung Galaxy Buds in their carrying case. The wireless earphones will cost you 149 Euro. Tons of more pics here: https://t.co/nwdAsEaDfJ pic.twitter.com/BvS9lNDi6a

— Roland Quandt (@rquandt) February 6, 2019
The leaked spec sheets tout three models: the S10+, S10, and S10e, with displays of 6.3 inches (1440x3040 or 522ppi), 6.1 inches (1440x3040 or 550ppi) and 5.8 inches (1080x2280 or 438 ppi) on the diagonal respectively. All feature an Exynos 9820 SoC built on a 8nm process.
According to the leak, the former two S10s carry three main camera sensors (12MP+12MP+16MP wide angle) while the S10e has two (12MP+16 wide angle). Battery capacity is listed at 4100mAh, 3400mAh and 3100mAh respectively. The "e" model omits the in-display sensor. Headphones will be badged by Samsung's own AKG brand, part of its Harmon subsidiary. Alas, the conventional headphone jack appears to have been dumped.
So yeah, looks like that's definitely happening... [Thanks, tipster!] pic.twitter.com/CQ0nxrAGh2

— Evan Blass (@evleaks) February 11, 2019
Perhaps the last detail is significant. Samsung's continuing support for the analogue audio port, ditched by other flagships in favour of USB-C audio, may have helped Samsung retain customers' loyalty – or even won it new customers.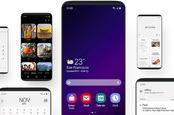 One UI to end gropes: Samsung facelift crowns your thumb the king
READ MORE
(Or so you told us, anyway. In reality, Samsung is suffering in a contracting market, just like almost everyone else.)
So why doesn't the leakage matter so much?
Firstly, it's because Samsung has retained so many hard-won advantages from its early-twenty-teens heyday: its brand, its distribution, a mature and broad feature set (such as DeX) and third-party support. No other OEM comes close to matching the integrated experience of Apple – although Google is working hard on this.
Secondly, the recent One UI design overhaul – showcased here, just rolling out now – has given it a more cohesive proposition. This isn't just fancy talk. Huawei throws a ragbag of innovations into a device as if to see what will stick.
Reviewing the Mate 20 Pro last year we noted "there's more to a phone than a collection of technology", while lamenting "an annoying user experience that's sadly getting worse for the nagware Huawei is introducing this year". One UI simply emphasises the difference in quality between the Samsung and the Huawei user experience.
And that, dear reader, probably matters more than any line on the spec sheet. ®