This article is more than 1 year old
Go big (with our bandwidth) or go home, Verizon: Texas mulls outlawing 911 throttling after Cali wildfire fiasco
Public safety versus profit
A law proposed in Texas would make it illegal for mobile networks in the US state to throttle internet connectivity during a major emergency.
The two-paragraph H.B. 1426 is a response to Verizon's controversial slowing down of California firefighters' wireless broadband last summer where, in the midst of the state's worst-ever wildfire, the fire department found its previously "unlimited" data plan was brought to its knees.
"A mobile Internet service provider may not impair or degrade lawful mobile Internet service access in an area subject to a declared state of disaster," reads the relevant part of the bill, which would take effect on September 1, 2019 if approved. The bill is one of 12 that Democratic representative Robert Guerra has put forward this month, almost all of which concern public health.
It comes following Santa Clara county fire chief Anthony Bowden's furious denunciation of Verizon in August 2018 when he went public with his fear that the throttling put public safety at risk. The firefighters' 4G monthly service plan slowed down connections after it hit 25GB of monthly data usage.
Two months before that fire, the mobile phone company lifted these monthly download restrictions – temporarily – while they were fighting another blaze, but in August, the firefighters were surprised to find the restrictions were back in place, and their phones' internet connectivity hit the buffers. On the one hand, Verizon said the restrictions were only lifted temporarily, on the other hand, the firefighters felt this wasn't well communicated, causing them to rely on a service that wasn't up to scratch during their next big emergency.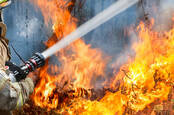 Fire chief says Verizon throttled department's data in the middle of massive Cali wildfires
READ MORE
"In the midst of our response to the Mendocino Complex Fire, County Fire discovered the data connection was being throttled by Verizon, and data rates had been reduced to 1/200, or less, than the previous speeds," Bowden said in a statement. "These reduced speeds severely interfered with [our] ability to function effectively."
What really annoyed Bowden was that when his department contacted Verizon to lift the limits, they were told they needed to upgrade their plan before data was turned back on, which they eventually did by paying double the previous cost.
"County Fire believes it is likely that Verizon will continue to use the exigent nature of public safety emergencies and catastrophic events to coerce public agencies into higher cost plans ultimately paying significantly more for mission critical service – even if that means risking harm to public safety during negotiations," Bowden said.
The resulting furor forced Verizon to claim it had all been a big error. "We made a mistake in how we communicated with our customer about the terms of its plan," Verizon told us at the time.
Lawmakers, specifically Democrats, didn't buy that, and started urging America's comms watchdog the FCC to look into the issue. Which, of course, it hasn't done, and that has nothing to do with the fact that FCC boss Ajit Pai used to work for the telco.
And there were clear public safety provisions written into the 2015 FCC net neutrality rules to prevent this kind of throttling, however they were discarded... soon after Pai took charge of the regulator. Ho-hum. ®