This article is more than 1 year old
OK, Google? Probably not! EU settles on wording for copyright reform legislation
Commission fumes at 'fake' campaign
The EU has finally settled on the wording of its Digital Single Market copyright reform package, a three-years-in-the-making effort, greeting the agreement with a sizzling rebuke of the "misinformation campaigns" around the measures.
We managed to ensure that the user of a platform would not be liable for uploading something because, legally speaking, that would be a copyright infringement. We've moved the liability from the user to the platform...
The changes (FAQ) tweak contract law, text and data mining (with machine learning in mind), the use of news material, and the liability of large internet platforms that handle a lot of user-uploaded copyrighted material (article 13). Journalists (under article 11) will be entitled to a share of revenue from licensing their headlines.
In a press conference today announcing the measures, MEP and Conservative legal affairs spokesman Sajjad Karim said the process had highlighted a disturbing development in the "political culture".
"The ability of some of the platforms to carry out campaigns [against the legislation] is a good thing," Karim said. "But the way some of these have been carried out really has been against the grain of how a democratic society should function."
Individual staff members had been targeted, he said, by "elements that have misled the public about what we're trying to achieve, and we're sure will mislead the public as to what we have actually achieved. It strengthens our resolve to make sure we don't allow European citizens to fall victim to that sort of misinformation."
#Google warns that websites may lose as much as half of traffic if the EU passes the #CopyrightDirective, but should we believe a company with that many fines on its name? https://t.co/L60Cb9Ab1W via @thenextweb pic.twitter.com/QANEXxWH2E

— cloudwards (@cloudwards) February 8, 2019
CEO of Google's YouTube, Susan Wojcicki, had warned the service may have to "close" in Europe, causing consternation among teenagers, while digital rights activists warned of a "meme ban" and "censorship machines".
Twaddle
Axel Voss, the MEP who steered the measure through the trilogue process, echoed concerns about campaigns against the changes.
"There's a great deal of misinformation floating around: the idea [the copyright directive] is going to damage the internet, restrict the internet, that the internet will no longer be the same – none of that is true or relevant."
The idea that anyone but large platforms would be affected by one of the proposals, Article 13, was "absolute twaddle", he added.
In a striking post on Medium entitled "The Copyright Directive: how the mob was told to save the dragon and slay the knight", the European Commission said the activism was largely fake: "There is ample evidence from respected sources ... that 'Big Technology' has even 'created' grassroots campaigns against the Copyright Directive in order to make it look and sound as if the EU is acting against the 'will of the people".
Some parts of the creative industries continue to have misgivings about the process, fearing it had given technology platforms even more loopholes – the opposite of what was intended.
👊Good start on legislating for the creative industries. But NOT all rights holders are in favour of #Art13.

- For many "best effort" monitoring is far too meretricious👇#saveyourinternet #article13 #article11 #uploadfilters #makeinternetair #copyrightdirective #DSM #linktax pic.twitter.com/oAWZ7HbnE4

— Netopia.eu (@netopiaforum) February 13, 2019
These objectors are largely from the audio-visual sector, which fears a user may now be free to upload snippets – such as goals from Premier League matches – with impunity. Voss acknowledged the proposed directive wouldn't please everyone.
"Parliament would have liked a better outcome but ... the nature of a compromise is that one is never entirely happy with it," he said today.
"We managed to ensure that the user of a platform would not be liable for uploading something because, legally speaking, that would be a copyright infringement. We've moved the liability from the user to the platform."
Limitations, as we reported last week, exempt companies with an annual global turnover under €10m, fewer than 5 million unique visitors a month, and are less than three years old. Further exemptions have been added.
Article 13 stirred up academics and online activists, but not in numbers that convinced European Parliament. Two days of protest backfired. Last August fewer than 800 people turned up across Europe (half of those in Berlin) and there were far fewer in January. Engagement measured in Twitter likes or retweets from prominent opponents such as European Parliament's sole Pirate MEP, Julia Reda, rarely surpassed 200. MEPs did get up to 60,000 emails at a time on the subject, however, mostly from robots and many from outside the EU.
A quick reminder to those spamming MEPs over the upcoming copyright directives.

This tactic doesn't play well in the EU and it's one of the reasons the bill advanced in the first place. https://t.co/nbMPbNLJUQ

— Jonathan Bailey (@plagiarismtoday) February 11, 2019
Article 13: What's the fuss about?
The 13th article of the directive is intended to plug a loophole enjoyed by large "user-uploaded content" platforms. Liability provisions were sensibly designed in the 1990s to protect services such as storage lockers, but the music industry and film makers argued that, two decades later, they were being exploited by Google's dominant video platform, YouTube, to gain a commercial advantage over rivals like Spotify, which in turn depressed the price of music.
The European Commission was sympathetic to this so-called "value gap" and the measure sets out to ensure "takedowns" are "stay-downs". Google already uses effective filters on YouTube – but a creator must sign up with Google and become a commercial partner to take advantage of them. The change ensures that if Google wishes to run a particular piece of material, it will be made to license it, rather than relying on unknown anonymous uploaders to keep putting it back up online.
Specifically, the EU says: "in situations where there are no licensing agreements concluded with rightholders, the platforms will need to take certain actions if they want to avoid liability. In particular, they will need to
make best efforts to obtain an authorisation,

make best efforts to ensure the unavailability of unauthorised content regarding which rightholders have provided necessary and relevant information and

act expeditiously to remove any unauthorised content following a notice received and make also their best efforts to prevent future uploads.
The tech industry largely got what it wanted from the package: exceptions for education, cultural preservation uses, text and data mining for data analysis and training AI, a new mechanism on licensing on out-of-commerce works, and an exception for electronic transmission for education. A few years ago, Canada went further and gave educational material a fair dealing exception – with catastrophic consequences for Canadian authors.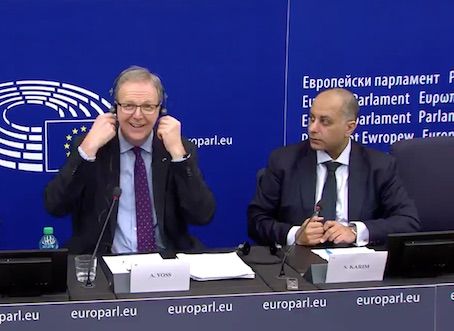 MEPs Axel Voss and Sajjad Karim at a press conference this morning. Voss has just been asked, by a Dutch journalist, if the EU could consider launching its own Google News-style headline aggregation service as a nonprofit
The text must be adopted by the Council of Ministers followed by a final plenary vote at the European Parliament in late March or April. Pirate MEP Reda told her supporters the vote could still be won – but given the amount of sweat that's gone into this, that seems unlikely. The text underwent dozens of revisions last spring, and to two votes in parliament. This text was finally agreed at the end of a 13-hour day, in the sixth trilogue since the parliament approved the draft in September. Nobody will want to do that again. ®