This article is more than 1 year old
Lenovo ThinkPad P1: Sumptuous pro PC that gets a tad warm
Battery could be improved, we charge
Long Term Test Clearing out the attic recently, I was astonished to discover an ancient bit of PC kit that had failed to be recycled with family, friends, eBay, the vicar, or a random homeless person. This was a rarity: a laptop with a desktop class Intel chip: the Thinkpad A31, from Big Blue itself, around 2002.
The idea was bold: professionals needed desktop class performance, so why not include a desktop chip (A Pentium 4-M) in a laptop?
I'll tell you why. This 3.17kg (7lb) pavement slab ran for about 45 minutes on its battery - that doing modest tasks - before expiring. Then you had to plug it in. I suspect that if you were doing a large compile, it would have expired even quicker. But feast your eyes on the lavish expanse of portable computing, with the much-loved seven-row keyboard, dedicated keys, and lots of room to rest some ham fists.
Things have moved on. The Thinkpad range long ago passed from IBM into Lenovo's hands, but the current equivalent of the P1 felt equally sumptuous. It's certainly one of the few review items I returned with regret.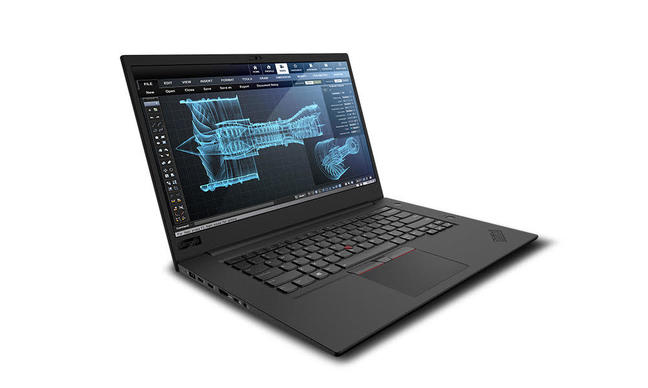 The Lenovo ThinkPad P1 can be configured with a server-class Xeon if you like, but here boasted the latest i7. I felt like a horse encountering a wide open meadow for the first time after a lifetime in the paddock. The wind was whistling through my hair as I galloped through the benchmarks.
I may be exaggerating my excitement just a little, but over a few weeks, the P1 was very nice to work on. We suspected as much because of the 32GB of RAM installed inside this review unit. Even Outlook didn't seem to groan and stagger when beckoned, as it always has on any premium machine over two decades, like some stroppy teenage Frankenstein.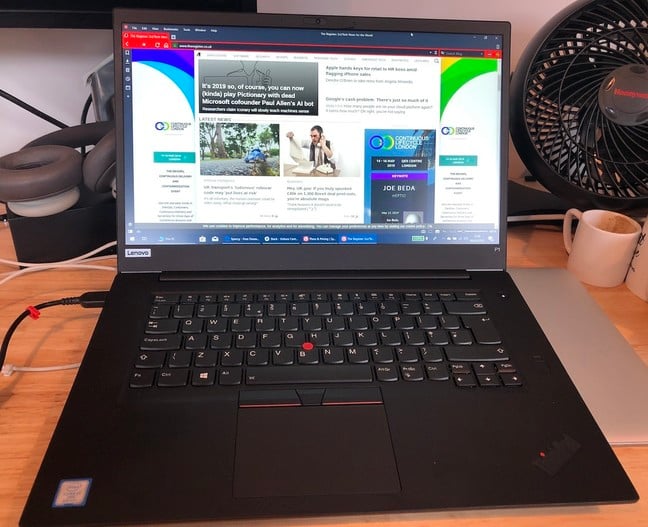 Click to enlarge
With classic ThinkPad carbon fibre build, the P1 is designed to be an expansive, more powerful professional alternative to the T-range, a combination of power and weight: 2.43lbs, or 1.1kg. Lenovo reserves another slot in the line-up for the X1 Extreme. Frankly, it's hard to tell them apart. For the record, very little distinguishes the P1 and the Extreme: the latter is unabashedly pitched at "IT admins", with support for four external monitors.
Two things not traditionally associated with ThinkPads surprised me: the P1's excellent sound, and the clear contrasting display - here a non-touch HD resolution panel, the "cheap" but definitely not nasty option. This model comes with Dolby Vision.
The speakers fire down into your lap or desk, but that doesn't inhibit their performance. Both sound and displays have improved markedly in recent years. So has the fingerprint scanner, which proved very reliable – not something we'd associate with swipers of the past.
And it came well equipped with ports. Two Thunderbolt 3 (4x PCI) ports are accompanied by two (now old school) USB-A ports.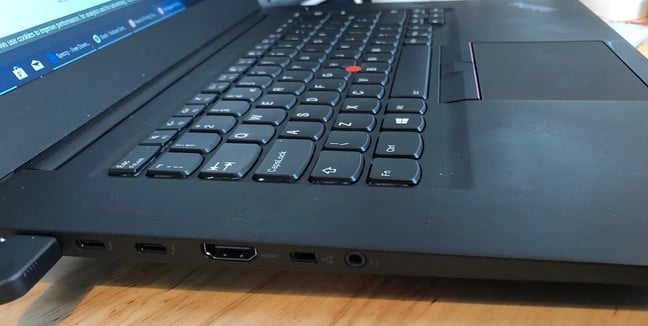 Click to enlarge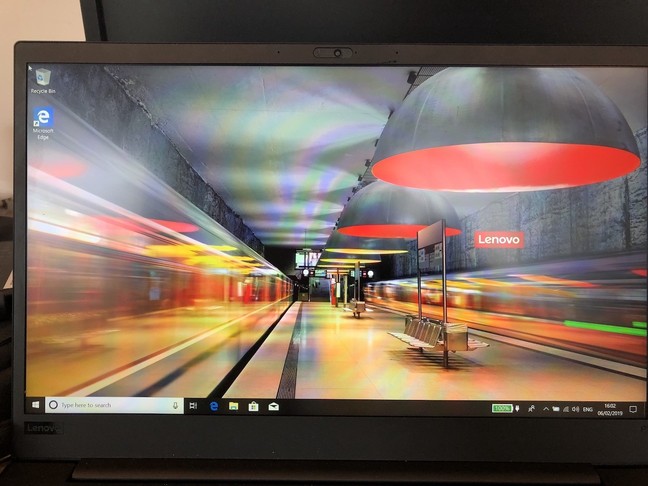 Click to enlarge
The 135W power brick is sizeable, but lighter than it appears in the photo here.
In the box was a mini to full fat Ethernet adapter, but nothing else other than laptop and charger. You could forgive Lenovo making the choice of mini-Ethernet, as it's more rarely used these days.
It's also pretty robust, bragging a 12 MIL STD 810G test rating.
The display is great for the office work we do, but you will get punchier and brighter displays, from Lenovo as well as rivals, if you wish to pay for them.
For a writer the star was the keyboard – with very nicely widely spaced keys, and great travel: 2.2mm puts it far above the category average. This is one consolation of the island keyboards Lenovo builds now. ThinkPad veterans rue the loss of the seven-row design, but in my opinion they've never been better. Try typing 4,000 words in a day, and the difference is palpable.
Software
The P1 wasn't loaded down with "Minecruft", which is what I call the dross that you find on a Windows 10 PC these days. At least not from Lenovo, anyway; that comes from Microsoft. Lenovo restricts itself to the one configuration and support app these days: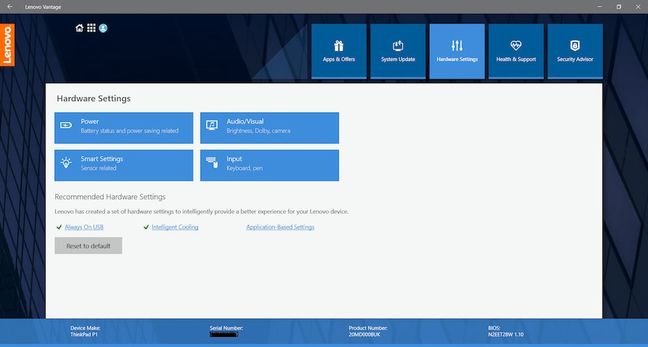 Click to enlarge
Performance and battery life
The only thing that loses the P1 a maximum points score is the battery life. I found 4.5 hours fairly typical if I was careful - and given the 80Wh battery this really should have been longer. I suspect it's a convection thing: the base of the laptop, made from an aluminium alloy, did get hot. This is the bit of the machine no one ever sees, so it really isn't marred by plenty of cooling slots. Only then it would be harder to conform to the 810G military standard tests, we suppose.

Click to enlarge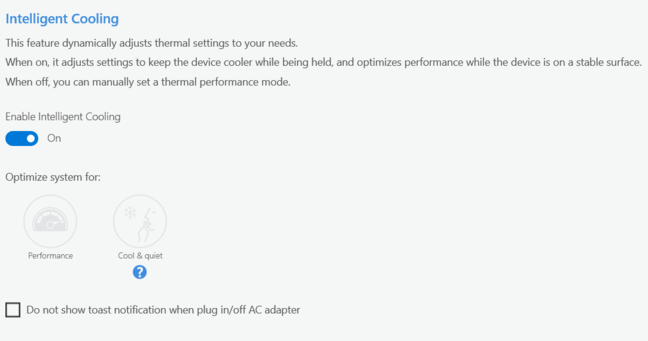 Click to enlarge
When the active cooling fans kicked into life, it was like a jumbo taking off, my colleagues in the Reg cubicle pointed out. A hefty, badly designed web page – take any Mirror Group local newspaper site for example – is all it needs. This was a fortunately rare occurrence. I just avoided the local papers.
The 411?
With its high build quality, lavish keyboard, generous I/O and extensive range of CPU options, the P1 is a good choice for professionals looking for more grunt. Just a shame about the battery life, though.
Plus ça change. ®
 
Thinkpad P1 tech specs
Processor

Up to 8th Generation Intel® Xeon®

Operating System

Up to Windows 10 Pro for Workstations

Graphics

Up to NVIDIA® Quadro® P2000

Memory

Up to 64 GB DDR4

Storage

Up to 4TB NVMe SSD

Display

15.6" 4K UHD (3840 x 2160) IPS touch
15.6" FHD (1920 x 1080) IPS

Battery

4-cell Li-Cyllinder internal battery, 80Wh. Lasts up to 13 hours*

Dimensions (W x D x H)

361.8 x 245.7 x 18.4 mm / 14.2 x 9.7 x 0.7"

Weight

Starting at 1.7 kg

Connectivity

Intel® 9560 802.11 a/c WiFi + Bluetooth® 5.0

RAID
Ports

2 x Intel® Thunderbolt 3 (Type-C)
2 x USB 3.1 Gen 1 (Type A)
HDMI 2.0
Mini Gigabit Ethernet
3.5mm Mic/headphone combo jack
Smart card reader (optional)

Preloaded Software

Lenovo Vantage
McAfee™ LiveSafe (30-day trial)
Microsoft Office 2016 (trial)
*Based on testing with MobileMark 2014.
The base price of the model is £1,449.00. The cost of our review unit, a 32GB model, was £2,387.80. You can find a product page here.