This article is more than 1 year old
Santander hands over $700m to IBM in hopes of becoming incredible banking machine
Bank CIO Chaos explains
Santander is locked, loaded and ready to fire the cash gun at IBM in an effort to speed the bank's jaunt towards the cloud.
The five-year deal will see Santander spank $700m to get its hands on IBM's tech, including AI smarts in the form of IBM Watson, which will be, er, put to work "enhancing branch advisors' expertise" and increasing productivity.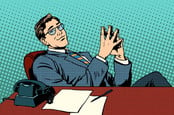 Lloyds finally inks mega 10-year cloudy outsourcing deal with IBM
READ MORE
That is one of the aims at least, assuming UK customers can actually find a branch, of course. Last month Santander announced it would be shuttering 140 locations and potentially shoving 1,270 workers into the redundo-launcher (although around 400 may find work elsewhere in the group). The move, which the bank said was driven by customers staying away from branches, will leave it with 614 UK outlets. For now, at any rate.
The bank expects to make savings in IT spend from the deal, although an insider told The Register that the group's IT team were somewhat stretched at the moment, and recruiting heavily to fill gaps. However, he did reckon that the IBM technology would prove useful in analytics, with AI coming in handy for transaction analysis. He also pointed at competitor HSBC's plans to shunt apps and data workloads onto Google's cloud.
While HSBC has had a bit of a torrid time of late (miscreants made off with customer details last year), it has implemented fashionable technologies such as Blockchain, and Santander wants in on the party. The group wants IBM to help it build "the most advanced IT architecture of the financial sector".
To that end, Santander has created a Cloud Competence Centre as it heads toward a hybrid, multi-cloud environment. It also plans to give its processes a good thwacking with IBM tools around DevOps and Security to get apps and services upgraded and into use faster.
The global CIO of the group, David Chaos, said: "This agreement will allow us to have a global partner with the best technology to help accelerate the IT transformation."
Good luck with that.
A report from Forrester on the future of IT will make sobering reading for Chaos. In it, the analysts warned that a lack of understanding of tech at higher echelons coupled with simple inertia had led to 50 per cent of "digital transformation" efforts either stalling or failing outright.
While Santander are the latest to sign up with Big Blue, the IBM cash-slurping machine has been running nicely in the financial sector of late. A $540m outsourcing deal with Nordea Bank "bringing new efficiencies in their digital transformation" was agreed last month and of course there's that huge 10-year cloudy outsourcing agreement with Lloyds Bank too. And who could forgot meltdown bank TSB turning to Big Blue in its hour of need? ®