Pokemon Go will soon let people ban its virtual pets from around their houses following a legal settlement with homeowners fed up with zombie kids.
It's been two years since the game became an international fad, with millions of smart phone users wandering around real streets trying to catch Japanese animated animals by flinging virtual balls at them.
The game's enormous success brought a range of subsequent problems, from thugs hanging around popular Pokemon Go spots and robbing geeks at gunpoint, to privacy-busting security holes, to a spike in car accidents and injuries as people either drove around while playing or zombie-like players wandered in the road. The game was even on the end of an Islamic fatwa.
But the biggest issue has been around where the Pokemon have popped up, waiting to be caught. The company behind the game, Niantic, tends to use landmarks or points of public interest to locate "Pokestops" where players can collect items to play the game, or larger "gyms" where large groups of Pokemon players can congregate in the real world to play together in the virtual world.
The problem is that sometimes people don't want others wandering onto their property. A police station in Australia grew so fed up with people wandering in to hunt down virtual critters that it put up signs warning them that any players will be arrested and put in cells.
A hospital in Oregon also formally complained to the US Federal Trade Commission (FTC) that zombie-players were wandering into private areas of its facility in order to play the game.
Sue time
But the crunch finally came with no less than 12 different people sued Niantic [PDF] in California for encouraging complete strangers to wander onto their property in search of pixilated pests.
One of the owners of an oceanfront condo in Florida was baffled to find hundreds of players "acting like zombies, walking around, bumping into things" because a "gym" had been put near their home. The zombie-players would be there at all hours, the owner complained.
Another said that in just the first few weeks of the game's release, he had had five different people ring his doorbell and asked to be allowed into his backyard to catch Pokemon. As you might expect, there are literally dozens of other examples, including at a Holocaust Museum in Washington DC, which some felt was in somewhat poor taste.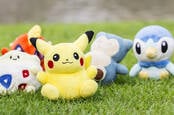 Pokémon GO caused hundreds of deaths, increased crashes
READ MORE
Well, after two years of litigation and following an arbitration session in November, the issue has been resolved this week, and Niantic has promised [PDF] to introduce a new feature that allows people to complain about the position of the game's virtual assets.
The company has said that from now on it will resolve complaints about people trespassing on others' land within 15 days, as well as give the owners of "single-family residential properties" i.e. not apartment buildings the right to block a gym or pokestop coming within 40 meters of their property.
It will also keep a database of complaints and change the game to stop Pokemon popping up where people don't want them, and add warnings to the game telling players to be courteous to others, especially if they are in large groups.
The company will start respecting park hours and stop Pokemon from appearing in them after-hours. And it will hire an auditing firm to look into how its system worked.
As for the 12 Pokehating plaintiffs? They will each get $1,000 a piece. The lawyers, of course, get the best deal of all: up to $8m in attorney fees and $130,000 in expenses. The lawyers say they spent 2,500 hours on the case, which still amounts to $3,200 an hour if they get the full $8m. Now THAT is how to play Pokemon Go. ®
Similar topics