Bloke thrown in the cooler for eight years after 3D-printing gun to dodge weapon ban
'I didn't buy a gun, I built the gun'... Ctrl+C, Ctrl+V, Ctrl+P lands Texas man in the slammer
A Texas fella banned from owning firearms is now behind bars for trying to 3D print a gun for himself.
Uncle Sam's prosecutors announced this week that a federal district court in the Lone Star state sent 42-year-old Eric McGinnis down for eight years for possessing an unregistered short barrel rifle and possessing ammunition while subject to an active protective order. His trial by jury took just two days.
Back in 2015, McGinnis was served with the order after having a violent altercation with his girlfriend. Part of that order barred McGinnis from owning a firearm or ammunition for a period of two years.
The next year, McGinnis attempted to purchase pieces for a semiautomatic rifle but was turned down following a background check and was visited by the bureau of Alcohol, Tobacco, and Firearms with a reminder of the order.
Undeterred, McGinnis then purchased a 3D printer and obtained blueprints for the parts he was unable to legally purchase. Using the 3D-printed parts and other pieces he already had, the man was able to cobble together an AR-15 style rifle.
"I didn't buy a gun, I built the gun," he said in a recorded phone call while in custody. "The upper, I printed a lower, and I built it -- installed the trigger and did all that stuff. I built it."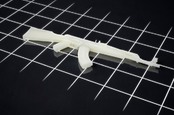 Judge bars distribution of 3D gun files... er, five years after they were slapped onto the web
READ MORE
In 2017, with just one month left on his protective order, McGinnis went out into a wooded area near Dallas and fired the weapon. Police nearby heard the shots and arrested McGinnis, who was said to have tried to get out of trouble by claiming he was working for the CIA.
During the search of McGinnis' backpack, the arresting officers found not only the rifle with the printed pieces, but also a list titled "9/11/2001 list of American Terrorists" with the names and addresses of several US legislators.
"When he realized he couldn't legally purchase a firearm, Eric McGinnis circumvented our gun laws by 3D-printing his weapon, eliminating the need for a background check," said US Attorney Erin Nealy Cox.
"This case should send a message to prohibited persons contemplating acquiring guns by any method: this office is committed to keeping guns out of the hands of those who violate protective orders for domestic violence, no matter how the guns are obtained – by theft, purchase, or 3D printing." ®