This article is more than 1 year old
ReRAM biz Crossbar hopes fad-du-jour IoT AI can help it avoid the tracks of Intel's Optane storage chip juggernaut
ReRAM seeks artificial help
Crossbar, developer of Resistive RAM (ReRAM) chips, is setting up an AI consortium to help counter, er, resistance to the technology, speed up its adoption, and hopefully outrun Intel's Optane.
ReRAM is a type of non-volatile memory with DRAM-class access latency. So, flash-style solid-state storage with RAM-ish access. However, it is taking a long time to mature into a practical technology that can be deployed in devices to fill the gap between large-capacity, non-volatile, relatively slow NAND, and high-speed, relatively low capacity, volatile DRAM.
Crossbar started up in 2010, and has taken six rounds of funding, the latest raising $15.4m in 2018, to reach $110.5m invested in total. The biz has plugged away year-after-year, achieving manufacturing license deals – such as one with SMIC of China to build 40nm-process ReRAM chips – only to see the Intel cash-rich juggernaut crash onto the stage with its non-volatile faster-than-flash offering.
Intel has almost blown away everyone else in the persistent memory business with its massive Optane 3D XPoint technology marketing machine. Interestingly enough, Optane uses crosspoint technology, like Crossbar's ReRAM: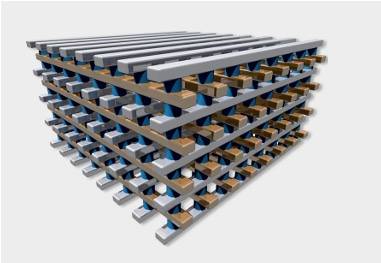 Crossbar crosspoint ReRAM
Crossbar claims it can design "super dense 3D cross-point arrays, stackable with the capability to scale below 10nm, paving the way for terabytes on a single die." Beat that, Optane. Check out a white paper from the upstart here (registration needed.)
Crossbar continued to develop its ReRAM, inking a licensing agreement with Microsemi in May last year, involving the use of sub-10nm ReRAM tech in coming Microsemi products.
The smaller the process node, the less energy is needed to drive the device, and the more ReRAM chips can be fabricated from a wafer.
Crossbar has seized upon Internet-of-Things edge devices running AI applications as a potential ReRAM market. It reasons these gadgets need fast access to relatively large AI models without drawing too much power, and thus hopes its ReRAM tech can be used to hold AI knowledge bases accessed by machine-learning inference algorithms.
It's set up the SCAiLE (SCalable AI for Learning at the Edge) AI consortium with some specialised firms to push this idea:
Gyrfalcon Technology Inc. (GTI) which develops AI accelerator architectures,
mtes Neural Networks Corporation (mNN) for neural networks,
Robosensing Inc. for algorithms to integrate neural network training and optimisation.
The quartet claim they "will combine advanced acceleration hardware, resistive memory (ReRAM), and optimised neural networks to create ready-made, power-efficient solutions with unsupervised learning and event recognition capability."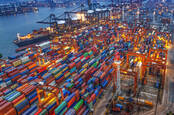 Besides the XPoint: Persistent memory tech is cool, but the price tag... OUCH
READ MORE
They have things like sensor-equipped cameras in mind: smart video cameras that can recognize people or things as soon as they pop into frame. Think surveillance cams that alert home owners when a human appears at a door or window, or inside a property, or smart home cams that control security, Wi-Fi, heating and lights depending on who's in which room, or smart tellies that auto-pause shows when they detect you've got up to go to the kitchen. Devices with other datasets could be used; images and speech for example.
Crossbar CEO George Minassian said: "We have been working closely with Gyrfalcon Technology, mtes Neural Networks Corporation and Robosensing, and expect rapid progress in designing the platform." GTI CEO George Kimble predicts the foursome will, funnily enough, "provide a unique ability to self-learn at the edge."
Crossbar says it's working with Japanese authorities to review opportunities for the 2020 Olympics, including video-based event detection and response capability. We'll see if anything comes of that.
Will ReRAM come in out of the cold now that Crossbar is finding ways it can inter-operate with other technologies? As long as there is a real need for its tech that Optane cannot meet, there is a chance it can succeed. Optane appears to be aimed chiefly at solid-state drives, servers, and other top-price gear, whereas Crossbar is setting its sights on more modest IoT gizmos, although not exclusively: the upstart has its eyes on data-center gear, too.
To us, it appears Crossbar hopes to nip ahead of Optane, avoiding Intel's high-end marketing tank tracks, by touting its tech to the world of automotive, industrial, medical, and other low-power embedded electronics and edge-of-network kit, a corner of the market somewhat beyond Optane's radar right now. ®