This article is more than 1 year old
LG folds at prospect of launching bendy phone while Samsung flaunts its upcoming kit on telly
We need to get our house in order first, prez tells press
Samsung has launched TV ads featuring its foldable phone – but its rival chaebol isn't so keen.
LG has put plans for a foldable product on hold, it confirmed yesterday.
That's despite considerable investment in flexible OLED display technology. Last month it announced a rollable OLED TV, which will go on sale this year. But while LG thought there's a use case for a TV-sized display, perhaps there isn't one for a pocked-sized bendable.
And it's got more pressing concerns.
"LG's main issue in smartphone business is to regain its market position. Considering this situation, it is too early for LG to launch a foldable smartphone," LG Electronics president Kwon Bong-seok told press.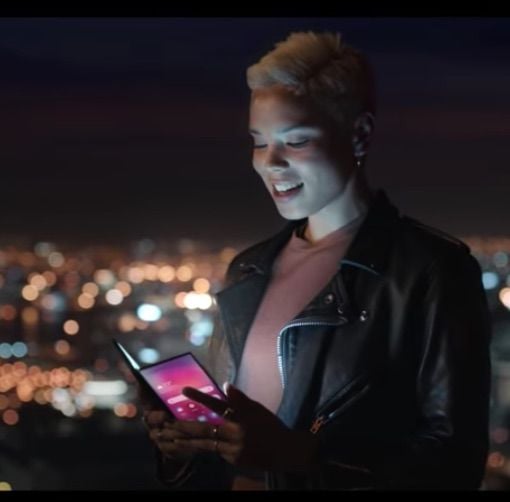 Shot from Samsung's new TV spot
Samsung unveiled a product featuring its "Infinity Flex" display last November.
Flexible displays have been years in the making. Samsung promised bendable phones were imminent in 2011 and many expected 2013 to be the year flexible products were launched.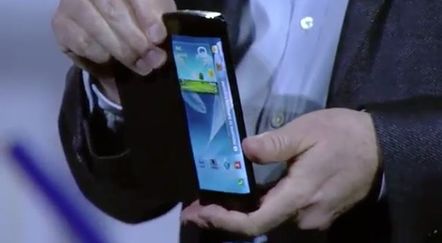 Samsung teases a flexible OLED display at CES in January 2013
But ultimately Samsung, whose ad for the Galaxy S10 leaked in Norway a day early this morning, decided that generation of OLEDs wasn't ready for prime time.
Even today, scepticism is rife – for two obstacles must be overcome. Huawei thinks they're still too thick. And the public needs to be convinced by the demonstration of a compelling use case. Samsung's product appears to be a book-format device, giving the advantage of being more durable, and giving the user a tablet-sized display in a small form factor. Microsoft also has IP on a paperback book-style device.
Is that enough? We'll soon find out. ®